WoW
Jan 26, 2018 12:01 am CT
The Battle for Azeroth beta datamining you've been waiting for is finally here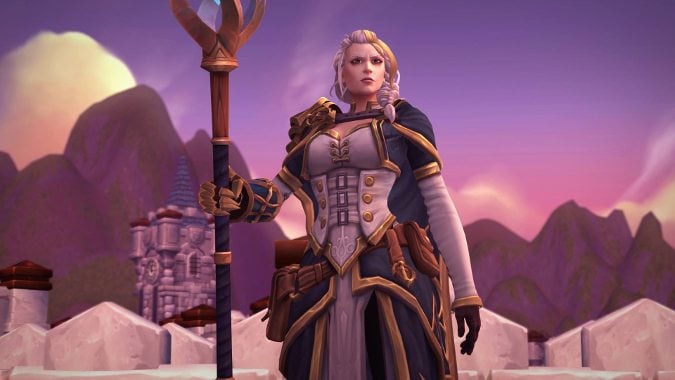 No, you can't play the Battle for Azeroth beta (or even pre-order the game) just yet, but an 8.01 build went up on Blizzard's servers and so the datamining has begun. What we have now isn't very detailed — and it goes without saying that this information is very early and could change — but it offers hints for what's to come. We have some scenario names suggesting story tidbits, new models, a bit of profession info, a bunch of new items, and a look at skill changes (beyond the philosophical overview the devs gave us this week).
It should be taken as a given that you should stop reading now if you don't want to know anything about the expansion. In short, if you're avoiding spoilers, get out while you still can.
Still here? Great!
Wowhead has been sifting through the data, and while we leave the details to them, here are the highlights:
And on top of all of these big chunks of new information are a few new things that we don't know much about, but are really excited about:
New title "No Good, Dirty, Rotten, Candy Stealer!" Unfortunately, this title reminds me a lot of the temporary title "Slayer of Stupid, Incompetent and Disappointing Minions," making me think it could also be temporary. (Though I still intend to wear it with pride.)
An Engineer-created Portable Transmog Pad, which is marked as needing a new name but… if I am correctly interpreting this name to mean it is a summonable device that lets me transmog even when I can't summon my Yak to transmog… I am super excited about this. If that's not what it is, excitement levels may vary.
An Engineer-created Goblin hovercraft mount. There's no word on their chance of explosion, but it does come in multiple colors.
A tailor-created hot air balloon pet. Otherwise known as: it looks like I need to level my tailor.
Baby Saurolophus pet. Or at least it it could be a pet. Okay, really, I have no idea what it is but I want it based on its name alone.
A horse show? I've always wanted to be in a horse show! Though there isn't the slightest hint on what form this will take, there's a new achievement for scoring 600 points in the Norwington Estate horse show. (Uh, question. Do I have to be a horse to be in a horse show? Because I'm pretty sure I'm still a Gnome.)
This is barely scratching the surface of Battle for Azeroth, and we're sure to see more changes as the expansion continues to develop. But in the meantime, I'm pretty sure that hot air balloon pet alone is plenty to get hyped about.
No? No one else wants a hot air ballon? Just me? Really? Well, to each their own…