WoW
Jan 29, 2018 9:00 am CT
Latest 7.3.5 hotfixes address Blackwing Lair, bracer bugs, and more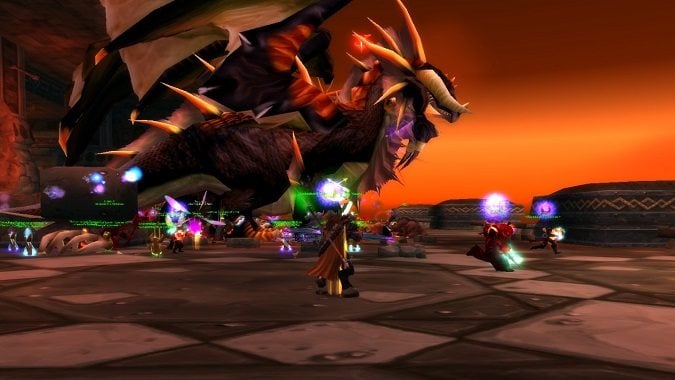 Late Friday night, immediately before the weekend kicked off, World of Warcraft released its latest round of hotfixes.  Most of the list addresses some of the game balance oddities that arrived with patch 7.3.5. Ancient raid zones such as Blackwing Lair and Temple of Ahn'Qiraj needed a few fresh bug fixes and Algalon received some tuning adjustments, bringing his difficulty back to where it was before the latest patch. Other patch related oddities which have now been fixed include giving certain bracers their texture back, and fixing a bug that caused some items to be unable to be disenchanted or transmogrified.
Bracers seem to be a theme in these hotfixes, as a curious bug with Greenskin's Waterlogged Wristcuffs has been resolved, too. Greenskin's Wristcuffs has the following effect:
Between the Eyes has a 20% chance per Combo Point to increase the damage of your next Pistol Shot by 200%.
Unfortunately, if Pistol Shot failed to cast, the Wristcuffs would be removed. While hilarious, it's wildly inconvenient.  Luckily, this issue has been fixed with this round of hotfixes, too.
Achievements
Defeating Algalon should once again award the appropriate achievements.
Players can now correctly earn the achievement Souls of the Lost.
Classes
Rogue

Outlaw

Fixed a bug that caused Greenskin's Waterlogged Wristcuffs's to be removed when Pistol Shot failed to cast.

Subtlety

Fixed a bug that prevented the gain of combo points after consuming the Regalia of the Dashing Scoundrel 4-piece set bonus.
Dungeons and Raids
Blackwing Lair

Nefarian

Addressed an issue where the Drakonid would fail to spawn as expected.

Ulduar

Algalon the Observer

Made many tuning adjustments to Algalon to more closely match his difficulty in 7.3.2.

Temple of Ahn'Qiraj

Silithid Royalty

Fixed a bug with the bugs despawning before players were able to loot them.
Items
Fixed a bug where some low level items were not able to be disenchanted or transmogrified.
Fixed a bug where incorrect textures were present on the Wristclasps of Righteous Reckoning, Supreme Felchain Bracers, Bracers of Perfect Discomfort, and Terrorweave Wristwraps. This fix should provide the correct texture and restore set completion to some players.
Player versus Player
Character item level is now set to 950 during Tournament Rules Wargames.
Concordance of the Legionfall is now set to rank 20 during Tournament Rules Wargames.
Monk

Mistweaver

The healing of Way of the Crane is properly decreased by healing reduction effects such as Dampening or Mortal Strike.
Quests
Neptulon's Cache now drops the Remnant of Water for quest "Controlling the Elements".
The Duskwood quest "Cry For the Moon" should now appear on the map if it is the next quest in the zone's storyline.
While no doubt frustrating for the developers, I love seeing all of the bugs that arise when a patch tinkers with old content. Blackwing Lair bug fixes in 2018? Beautiful.