WoW
Jan 30, 2018 3:00 pm CT
Paul Kubit and Shani Edwards offer details on Allied Race unlocks and more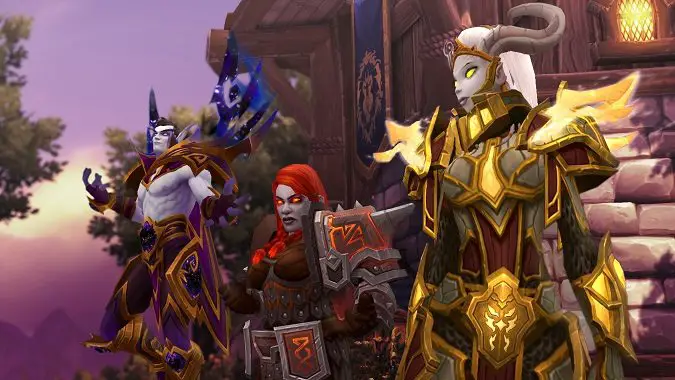 The folks at Wowhead interviewed Paul Kubit, Sr. Game Designer, and Shani Edwards, Game Producer, about Battle for Azeroth. And that includes the the big news that a pre-purchase of Battle for Azeroth — which is available now — will let you unlock and play Allied Race characters. As we've expected, the four non-BfA races are available with a pre-purchase of the next expansion — Highmountain Tauren, Nightborne, Void Elves, and Lightforged Draenei.
And in addition to getting the races themselves, you get a special mount upon completing Allied Race recruitment scenario for each race, and that mount is usable on any character of that faction — so once you complete your Nightborne recruitment scenario your Forsaken can ride around on the special mount. I especially found myself interested in the discussion of how the order of advancing is handled: you must have the expansion pre-purchased, and then you have to have the requirements for characters unlocked, and then you can do the scenario to access each Allied Race. Even if you have no intention of playing an Allied Race the mounts are there to encourage you to do the scenarios and see the content, which helps you understand why each race made the choice it did.
The interview actually talks about quite a bit more than just the introduction of Allied Races with the pre-purchase. Other highlights include:
Which race was the hardest to animate (Nightborne)
There will be more Silithus quests in the future to finish off that storyline
There are no plans to change heirlooms right now for leveling post 7.3.5 but they are watching and will adjust if leveling feels too slow.
It's definitely worth heading over to Wowhead and reading the whole thing. I still don't agree with the whole Nightborne going Horde thing, as it frankly makes a big chunk of the Suramar experience feel like a mistake and one I won't repeat on any Alliance character if I can avoid it. But that's me, and others are probably salivating at the idea of unlocking them.
I'll be off getting my Lightforged Draenei and Highmountain Tauren unlocked ASAP, myself. And it looks like that'll be sooner than I thought.