Blaze joins the free Heroes of the Storm rotation this week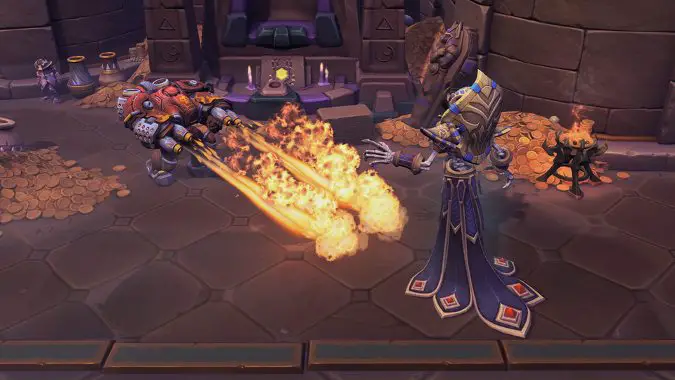 With Maiev arriving in Heroes of the Storm just last week, the Nexus holds little news for us this week. However, Lunar Festival is still ongoing until March 5. The Lunar Festival brawl, Lunar Rocket Racing, is also up and running, so check it out while you can.
Lunar Festival aside, perhaps the most exciting things happening this week is, if you don't already own Blaze, he's making his first appearance on the free hero rotation. He's a solid Warrior and a lot of fun, so make sure you check him out before the week concludes.
Free Hero Rotation
Li Li
E.T.C.
Zagara
The Butcher
Kael'thas
Artanis
Tyrael
Zul'jin
Rehgar
Varian
Junkrat (Slot unlocked at Player Level 5)
Azmodan (Slot unlocked at Player Level 10)
Genji (Slot unlocked at Player Level 15)
Blaze (Slot unlocked at Player Level 20)
Hero Sales
Ana — 375 Gems
Arthas — 312 Gems
Rexxar — 250 Gems
Featured Items
Agent Shrike
Death God Arthas
Shadow Patriarch Kharazim
Pearl High Templar Zeratul
Daelaam Artanis
Dream Genie Chromie
Oni Genji
High King Magni Muradin
Mystic Kingdoms Arthas
Fire Raider Rexxar
Garnet Heart Stone
Crimson Felsaber Demon
Raider Cyber Ram