Get Overwatch League Tokens and other cool rewards by watching on Twitch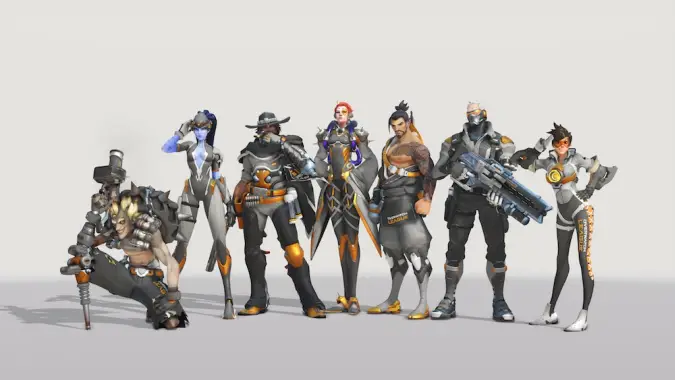 When the inaugural Overwatch League games began, there weren't a whole lot of ways to earn the in-game League Tokens — used for buying the unique team skins — outside of spending real money. And while Twitch promised to reward live viewers, there wasn't actually any sort of rewards system in place during Stage 1 of the Overwatch League. Today, Twitch revealed that rewards system, and it sounds pretty cool.
The full details of the system are below, but the short version is that you'll be able to get League Tokens just by watching games. For those of you interested in even more goodies, you can use Bits — Twitch's own form of currency that costs real-life money — to cheer on teams and earn both in-game rewards and Twitch emotes. So far, those are the only Twitch rewards, but they do promise more coming in the future.
Get League Tokens: Collect League Tokens just for being in the (virtual) stands. All you have to do is connect your Blizzard Battle.net and Twitch accounts, which you can do super easily right here. You'll get one League Token at the end of every live map finish¹. And some lucky viewers will get 100 tokens for every final map they watch per match — enough to get your favorite Overwatch League team skin in the game.²

Unlock Twitch Emotes & In-Game Skins: In any Overwatch League game, Cheer with Bits to show off your fandom, hype up your favorite teams, and unlock exclusive loot. Here's how it all works.

Everyone watching can work together by Cheering with Bits to unlock Overwatch League skins not yet available in game
Your own Cheering progress unlocks Overwatch exclusive hero emotes to use in chat and team-branded loot as well
Cheering leaderboards show how your fandom stacks up against the rest

Coming Soon: Get ready for your VIP pass to the best of the Overwatch League. You'll be able to unlock even more in-game items, behind-the-scenes video content on Twitch, and tons of other perks which we'll reveal soon(™).
Personally, I'm all for another way to earn League Tokens, as I wasn't really looking to spend over $1,200 just to unlock all the unique skins. I mean, I wasn't planning on getting all of them anyway, but still — any alternative to spending real-life money is good in my books. I'm less enthusiastic about rewards for spending Bits, though, since it still boils down to spending real money with no alternative route to the rewards.
As of right now, you'll need to spend at least 150 Bits (roughly equivalent to $2.10 USD) to earn a single team's Twitch emote. As for the Hero emotes, every 100 Bits cheered unlocks a random Hero emote, and you don't have to worry about receiving duplicates. In other words, you can collect all by using 2,600 Bits — which, at the very least, will run you a little over $35 USD.
All the same, I'm a fan of this — and I'm especially looking forward to whatever "VIP" exclusives are coming in the future. For now, you can start earning League Tokens tonight when Overwatch League Stage 2 kicks off. And if you want to check the global progress that unlocks specific rewards, head on over to the official Overwatch League Twitch page. Currently, the global total is about 2.5 million out of a total 40 million Bits cheered needed for the first reward, an exclusive skin for Tracer.