WoW
Feb 21, 2018 12:15 pm CT
The WoW forum MVP program is now taking applications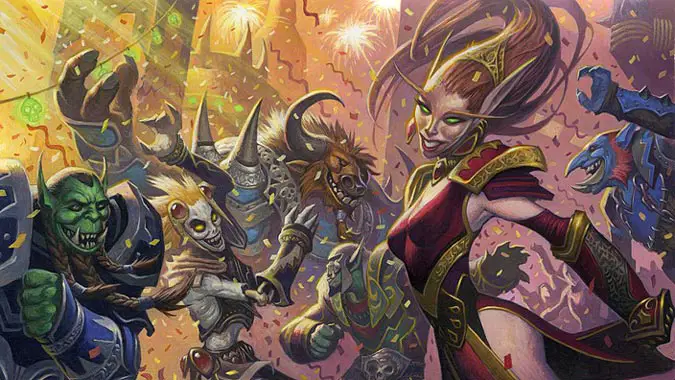 Update: The new MVP program application process is now live. Check out the full rules and apply here. The application period closes on February 28, so get working on that application!
The North America WoW MVP program is getting a revamp according to Community Manager Ornyx, who hopped on the forums to go over the details. The program, introduced all the way back in 2005, was created to highlight members of the forum community who consistently and accurately answered questions from fellow players. The goal was to helped foster constructive posting and a positive community. MVP posters are easily recognized by green text, which marks them as having answers other players can trust.
An MVP isn't an official employee of Blizzard or an official representative. They don't have any moderation powers and they aren't expected to agree with every decision Blizzard makes. Originally, MVP posters were simply chosen by Blizzard staff and given the designation. However, all that is about to change with a new MVP application process. In Orynx's forum post, he explains the new direction Blizzard is looking at in regards to the program.
<This is going to be a bit of a meta discussion, and not something focused on World of Warcraft, as a whole. Those of you who are active on the forums and among the other World of Warcraft communities will probably have more thoughts on this than those who visit the forums on rare occasion.>
Hey guys!
Over the past year we've had it on our plate to breathe a bit of life in the MVP program for World of Warcraft (you may have seen me mention it here and there, and I know the MVPs have been eagerly waiting for movement on this). After nearly a year of discussions, we're finally ready to start moving forward with a refresh of the MVP program for World of Warcraft!
Most of our active posters here know that when the MVP program was founded, it's goal was to recognize active forums poster who contributed to our community through things like high-quality class guides or assisting and guiding new players with helpful information. While being active and posting in a constructive manner will still be something we take into account, we realize that we now live in a world with Icy Veins, Wowhead, Reddit, and numerous other communities that didn't necessarily exist at the onset of this project. This leads our MVP group to not being able to actively fulfill it's original purpose on our singular forums platform.
All of this led us to think we needed to be realigning the purpose of the program slightly, as we want to more actively empower the group to engage in discussions with us on various community issues, happening on the forums and in our greater community. This would also include working to provide insight into community and gameplay feedback they may see around the community, with direct conversations between the WoW community team and the WoW MVP group as a whole on a regular basis, much as we do in our conversations with folks on Reddit, Discord, etc., something that hasn't been utilized to its best.
To facilitate this, we will be moving the WoW MVP program to an application-based recruitment system, which will address a few concerns we have currently with the recruitment process, as well as letting us asked targeted questions to candidates during certain recruitment periods, and hopefully widening the audience. We expect to open recruitment early next week, after the President's Day holiday, so be on the lookout for a thread if you're interested!
Of note, these changes DO NOT affect any region or franchise outside of World of Warcraft in North America, and these changes also do not apply to our awesome Customer and Technical Support MVPs who do great things.
We look forward to getting to work on the program and hearing your feedback!
It's not a bad change in direction — the WoW community has grown far, far beyond the forums. And having an application process will help Blizzard choose only the very best examples the community has to offer. Note that current MVP's for North America will also have to go through that application process, but they won't be going anywhere as long as they meet the newer standards going forward. Also note that this only applies to the North American MVP program, other regions remain unchanged. In addition, Customer and Technical Support MVPs remain unchanged — this is intended solely for community MVP representatives.
All in all, Blizzard wants to expand the scope of the player community while keeping the idea of fostering a positive, helpful community alive. It's unclear what this will look like going forward, but the intent behind the change is a good one.
What it boils down to is that players who feel they're making a good mark on the community will be able to apply for the MVP program, instead of hoping Blizzard will notice them at some point. If you're a member of the WoW community and have an interest in being part of the MVP program, keep your eyes peeled — recruitment should open up early next week.