The Lost Vikings find the free Heroes of the Storm rotation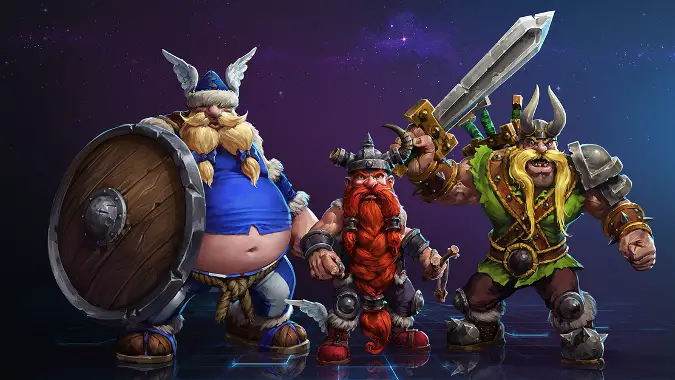 Last week in the Nexus was a quiet one, but this week made up for it in spades. Though we don't yet have a new hero teaser, yesterday we received just about everything else our hearts could desire. The latest in development video previewed new skins for Greymane, Johanna, and Morales with a space cop motif. Heroes of the Storm also released its latest PTR patch notes which include reworks for Medivh and Sonya.
We probably don't have much more than a week to wait for the next hero announcement, however. The HGC Western Clash takes place March 2 – March 4 and the Western Clash is where Probius was announced last year. Blizzard has, no doubt, saved the next hero for the Western Clash stage.
Remaining firmly in the present, though, this week's hero rotation is an interesting one for one big reason: The Lost Vikings. If you've never played the Lost Vikings before, now is your chance. Be warned, however, they can be quite difficult to play — and have been largely unchanged since they were first added to the game. That means, in addition to their difficulty, they're starting to show their rust in terms of talent choices and general game mechanics. If you can play them well, though, they can give a team an enormous lead in XP.
If you're going to give them a shot, do so wisely. Try not to play against characters like Li Ming who can get resets from killing your Vikings. She can pick off the squishier Vikings such as Erik and turn that into a real firework show.
Free Hero Rotation
Malfurion
Valla
Gazlowe
Johanna
Thrall
Dehaka
Tychus
Gul'dan
Tassadar
Auriel
Hanzo (Slot unlocked at Player Level 5)
Chen (Slot unlocked at Player Level 10)
Kel'Thuzad (Slot unlocked at Player Level 15)
Lost Vikings (Slot unlocked at Player Level 20)
Hero Sales
Sylvanas — 312 Gems
Rehgar — 312 Gems
Uther — 250 Gems
Featured Items
Ash Primal Queen Kerrigan
Crimson Storm Wolf Rehgar
Night Explorer Li Li
Hyper Turbo Tracer
AzGul'dan
Viridian Super Sonya
Spectre Thunder Guard Zarya
Wild Raven Sylvanas
Cobalt Cyb'arak Anub'arak
Blazing Lil' Ragnaros
Tan Horse
Cloud Serpent
Hunter Space Lord's Starbreaker