Reworks (maybe) arriving with this week's free Heroes rotation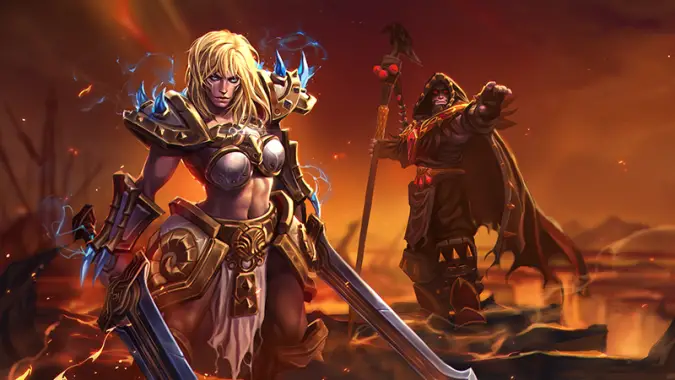 Heroes of the Storm has officially begun to slow down the rate at which it releases new heroes, but there's still plenty of good stuff on the horizon — some of which might release later today. Medivh and Sonya reworks are on the way, and that slick set of S.T.O.R.M. skins for Johanna, Morales, and Greymane might arrive today, too. However, none of the above has a release date as of yet, so we might still be waiting awhile longer.
This week's free hero rotation includes a great set of heroes for both new and veteran players alike. Li Li and ETC are easy-to-play standbys for rookie players, whereas heroes like Li-Ming and Garrosh are a little more difficult to play well. Anyone can get some mileage out of them, but in the right hands, they become monsters. My personal recommendation is to take this opportunity to try out Arthas if you haven't. He doesn't get nearly enough credit; he's quite the bruiser but flies under the radar. Arthas is great against auto-attacking heroes and, when built well, has incredible ability to sustain himself in a fight.
Free Hero Rotation
Li Li
ETC
Zagara
Butcher
Kael'thas
Artanis
Stukov
Zarya
Li-Ming
Malthael
Arthas (Slot unlocked at Player Level 5)
Ragnaros (Slot unlocked at Player Level 10)
Probius (Slot unlocked at Player Level 15)
Garrosh (Slot unlocked at Player Level 20)
Hero Sales
Leoric — 312 Gems
Jaina — 250 Gems
Featured Items
Midnight Theramore Jaina
Vrykul Leoric
Grease Gazlowe
Dark Auriel
Sir Murkalot
Dark Angelic Valla
Bone Visage Xul
Neon Spectre Illidan
Dorm 2017 Championship Banner
Shadow Crimson Hare