What in-game activities will you only do as part of a group?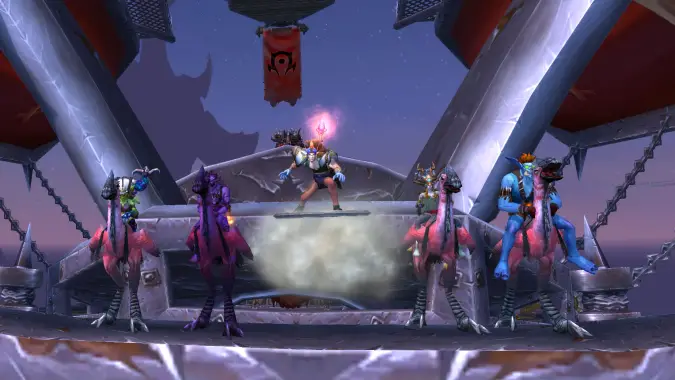 I've spent a lot of the past week playing World of Warcraft's new PVP Brawl for the Seething Shore. The Brawl itself acts as a "preview Brawl" for the battleground, which will appear as part of the standard battleground pool later today. And while the Brawl itself was a great — like, seriously great — chance to farm Honor, I wasn't necessarily queuing because of the Honor gains. I mean, technically I was — but I was primarily queuing for it because I had several friends interested in farming the Honor there.
The experience as a group of four or five all in voice chat was entirely different than the experience solo queuing. Which is to say, it was a total blast, win or lose. It got me wondering just how many other activities — in WoW as well as other Blizzard games — I gravitate toward much more heavily when in a group.
What immediately jumped to my mind tended to be activities that veer more into the "competitive" aspects of games. In Heroes of the Storm, I'm much more likely to partake in Quick Match if I have at least one other person with me. In Overwatch, the same is true of Competitive Play. Meanwhile, StarCraft 2 hasn't managed to grab my attention as much lately, but when it does, it's because of the excellent Co-Op experience to be had. None of that is to say my group-only experiences are exclusively competitive in nature, however.
I don't typically do World Quests as much nowadays, but I'm not going to decline if a friend says, "Hey, want to go on a tour of World Quests?" Nor am I going to decline joining someone for LFR, despite rarely solo queuing anymore. What otherwise might be tedious or non-essential experiences tend to be a lot more enjoyable as you add more people to your troupe.
How about all of you? What activities become infinitely more appealing as a group? Are there any things you will only do with a premade group? Conversely, are there any thing you will only do solo? And what exactly is it about your answer that makes you lean one way or another?