WoW
Mar 12, 2018 12:30 pm CT
Digital pre-order bonuses finally coming to physical pre-orders in Europe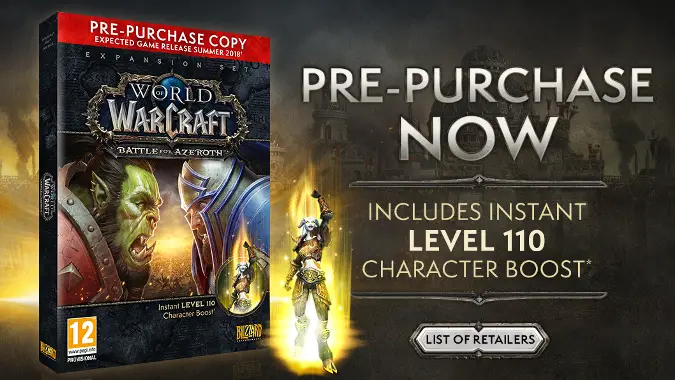 When World of Warcraft made digital pre-orders an option for new expansions, it came with an unfortunate side effect. New Blizzard releases always come with pre-order bonuses, and in the case of Battle for Azeroth, those bonuses include playable content such as access to Allied Races. Players who have pre-ordered Battle for Azeroth digitally can play with their Allied Races right now, whereas players who have ordered a physical copy need to wait until the game officially releases, rendering any pre-order bonus null and void. Even though both types of players have pre-ordered the game, one group gets to enjoy new content as a reward for doing so, while the other group can only watch from afar.
European players can rejoice, however, because it seems Blizzard is trying out a new system in the region. Pre-ordering a physical copy from select retailers will come with a digital code that grants access to the pre-order content.
Which side are you on? Get ready to fight for your faction's cause by pre-purchasing World of Warcraft: Battle for Azeroth, now available at selected retail outlets across Europe.
Picking up a Standard Edition pre-purchase box before the expansion's release this summer* will let you upgrade your account to Battle for Azeroth immediately and begin your journey to recruit four new Allied Races. Alliance players can add the shadow-touched Void elves and valiant Lightforged to their ranks, while Horde players can bring the ancient Nightborne and noble Highmountaintauren into their fold. Additional Allied Races will be available in the future.
Pre-purchasing Battle for Azeroth also immediately grants the included level 110 character boost!
The pre-purchase retail box is only available before launch and doesn't include a physical game disc—instead, everything is linked to the digital code inside. Apply it to your Battle.net account and the content will be automatically downloaded through the Battle.net app, so you'll be able to play Battle for Azeroth as soon as it's released*.
We strongly recommend heading over to the official announcement page to check the list of qualifying retailers in your country.
While this is an excellent improvement over the previous situation, it still leaves something to be desired. Other regions are left out, of  course, but it also doesn't seem to take a Collector's Edition into consideration. The most diehard World of Warcraft fans will hold out for that as-yet unannounced and unavailable Collector's Edition, meaning the game's most diehard fans are the ones  unable to partake of the pre-order bonuses. Essentially, to both access the content available from pre-orders right now and have a Collector's Edition, players need to buy the game twice. While that surely looks great for Blizzard's sales numbers, it isn't exactly consumer friendly.
This solution is far from perfect, but it's something, at the very least. Hopefully, this practice will eventually extend to retailers in other regions — if not for Battle for Azeroth, then future Blizzard releases.