Ask your Brigitte lore questions for a new Overwatch Q&A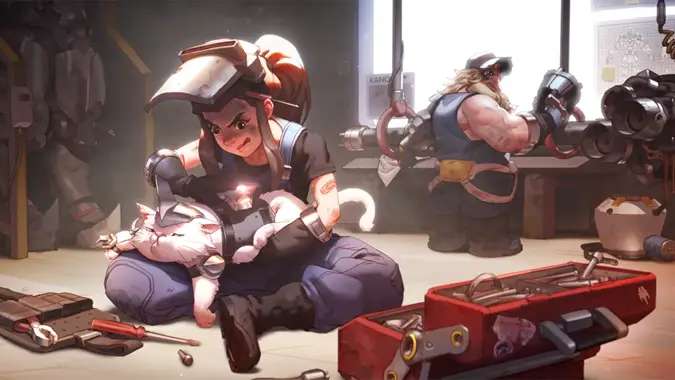 If you have any burning lore questions about the latest hero to hit Overwatch, you're in luck. A new Q&A blog featuring none other than Overwatch Lead Writer Michael Chu will address questions regarding Brigitte's story. A new tweet from the Overwatch Twitter feed announced the upcoming Q&A blog and how to submit your questions. Just keep in mind this is a lore Q&A — not a developer Q&A — when putting your questions out there.
Want to know more about Brigitte's story?

Lead writer Michael Chu will answer your questions in our upcoming Q&A blog. Submit your questions using #BrigitteLore. pic.twitter.com/encCNKKwCg

— Overwatch (@PlayOverwatch) March 13, 2018
As Torbjorn's daughter, Brigitte already has a tie to existing Overwatch lore. And with Reinhardt as her godfather, there's an even stronger tie going on. Brigitte's origin story did raise a few questions with the timeline, particularly in regards to Mercy. It looks like plenty of the questions on the hashtag are already asking about the timing of events, so hopefully we'll see some answers on that front. Brigitte's a different kind of hero — she grew up and witnessed the fall of Overwatch. She didn't have any kind of direct involvement in events, but she saw it all. And her connection to Reinhardt in particular gave her a very different kind of view of the organization — a more personal one.
Now that we're getting a Q&A for Brigitte, I do find myself wishing we'd get Q&A's for some other heroes as well. Zenyatta, D.Va, and Symmetra could all use some additional fleshing out. I also wouldn't mind seeing more information about Hanzo and Genji — what happened after the events in the Dragons animated short? Heck, it's been over a year since the Reflections comic, what's been going on with everyone since then? How about more information about Pharah and her father? Has Ana been in touch with her daughter at all? Why was Reaper creeping on a family from a rainy alley? Did Soldier: 76 get that recall order Winston sent out, or did it skip over him since he's, you know, technically dead? Does anyone know Morrison is still alive?
Obviously none of those things are the subject of the Q&A at hand. But I'm hoping if this Q&A goes well, we might see more lore-focused Q&A's in the future. While we don't have an official date for the release of the Brigitte Q&A, you can ask your questions via Twitter using the hashtag #BrigitteLore. Good luck, and let's hope we get some fascinating new information on Overwatch's latest hero!