WoW
Mar 13, 2018 2:00 pm CT
How much do you need this bee mount and/or frog mount?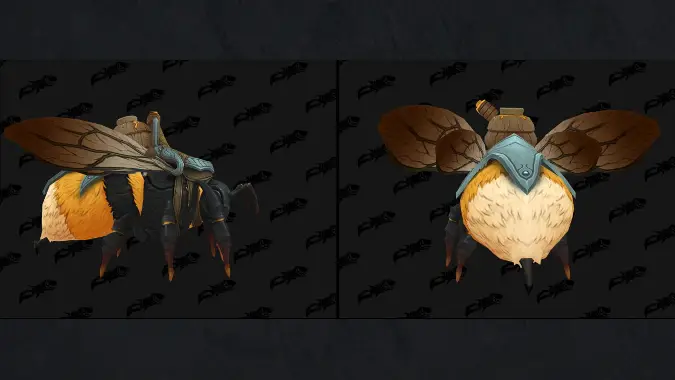 In the very earliest stages of Battle for Azeroth datamining, Wowhead uncovered a fuzzy bee mount, which we instantly fell in love with. Now, Wowhead has taken a closer look at the mount, along with video footage of its animations:
I loved this mount before, but I love it even more after seeing it in motion. The animations are absolutely adorable, right down to its little twitchy shimmy on the ground. I do hope there's a new animation coming for players on a mount, though. The existing poses for mounts really don't fit the bee at all, unless it gets visible reins before its release. That's a distinct possibility.
Currently, we still have no idea how this mount will be acquired. Wowhead did find a variety of bee-related activities in Battle for Azeroth, however. It's possible this mount is acquired through a rep grind. It's equally possible it'll cost a pile of gold, or simply be a drop somewhere. We just plain don't know yet.
In addition to the adorable fuzzy bee, Wowhead has also previewed a toad mount. The toad mount has a little more information and background.
Unlike the bee, the toad appears to have actual reins in the player's hand. This tells me the bee is supposed to have them, too, if there's no new animation planned. Though the toad has functioning reins, I'm not quite so excited for it, largely because it lacks in the cuteness factor. Admittedly, it is still cool in that anime sort of way and has a level of detail that puts many other mounts to shame. Unfortunately, it doesn't seem like the toad mount can fly. That makes perfect sense, but is still unfortunate, considering flight is a major goal for most players in every expansion. Who knows, maybe this toad has absurdly long legs and can leap into the air indefinitely!
This mount is very likely related to Krag'wa the Huge, a toad loa in Battle for Azeroth. While Wowhead has datamined some of the quests related to the loa in Nazmir, the quests themselves don't reveal the source of the mount. If we were to make assumptions (which is always a dangerous thing to do), I'd guess this mount will either be a reputation reward, or be a rare reward from World Quest caches, if Battle for Azeroth is keeping the same system.
While these two mounts are clearly the standouts of what's been datamined so far, they're a good omen of things to come.