This week the Overwatch League saw some serious leaderboard shakeups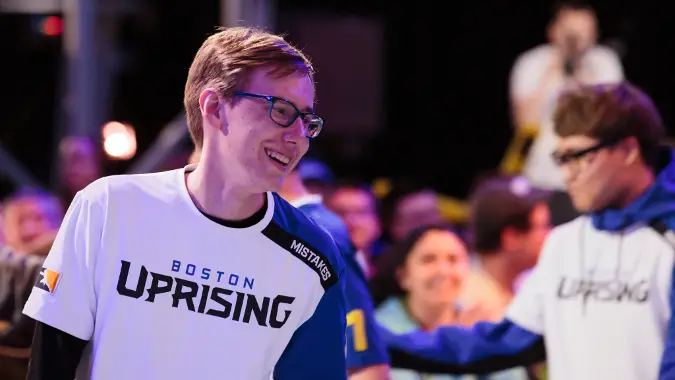 It was another great week over at the Blizzard Arena with lots of great Overwatch esports to watch as stage three rolls on. Here are the high points from this week.
The L. A. Valiant are currently at the top of the leaderboard. They did take all four maps off the Seoul Dynasty in week one, but this was mostly due to a relatively easy schedule otherwise. With their newly-18 year old tank Space and Tracer acquisition Bunny all the pieces seem to be falling into place for them. They did have some issues with the Dallas Fuel this week, whose roster also seems to be gelling a bit after a drama-laden first couple of seasons. They even took Seoul to a tiebreaker, but this week Seoul couldn't play their usual off tank Zunba due to a wrist injury.
Speaking of drama, the Boston Uprising seem to have risen up after one of their star DPS players was unceremoniously shown the door last week. They took out stage 2 champions NYXL after a tiebreaker map this week and are currently in second place on the leaderboard, only behind the Valiant on map score. Mistakes seemed to jump straight in to his sudden marquee place on the roster quite well. Boston has continued a trajectory of improvement through the entire first season, and it's quite impressive to see them continue on that path.
Watch Game 4 BOS @ NYE | Stage 3 Week 2 from OverwatchLeague on www.twitch.tv
Speaking of improvements, the Florida Mayhem have been slowly scraping themselves up off the floor this stage. They tied the London Spitfire on Volskaya and took Boston to a tiebreaker map. They've been working hard to integrate Sayaplayer and Awesomeguy into the team, and it looks like it's starting to pay off. Similarly, the Dragons have been starting to show a little improvement of their own, taking one map off the San Francisco Shock in a match which was super close otherwise.
Though there are some other cool matches next week, like the third Battle for L.A. to kick things off Wednesday, many Overwatch League fans have been just counting down the days until April 20th. At 8 p.m. CST, the Shanghai Dragons are facing off against the Florida Mayhem. It's not the best game of the week on paper, but it's the best chance the underdog Dragons have to secure a match win this stage. The fans are ready; here's hoping the team is too.