This week in Overwatch League it's gonna be Mei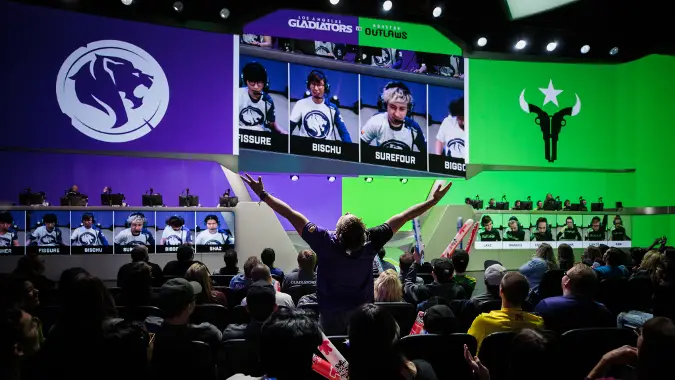 It's the last day of April, which is why I was so glad the Houston Outlaws decided to play Mei briefly on Nepal in their Overwatch League match against the L.A. Valiant. She's a niche pick but in this case guess what? It's gonna be Mei.
Yes, I did. I'm not even sorry.
The Outlaws also broke out attack Torbjorn on Numbani this week against the L.A. Gladiators, which went roughly as you might expect. Still, the Outlaws' willingness to take slightly off-meta chances are a part of their charm. Let Muma play Symmetra, you cowards.
Despite losing that match against the Outlaws to the power of Mei, the L.A. Valiant is still holding strong toward the top of the leaderboard for the Stage Three finals. However, if my writer math is correct, there are only three teams completely out of the running for the playoffs, which means the Valiant has a tough week coming up. They have to face the Boston Uprising — who are still undefeated this stage, despite losing a key part of their squad — and the Philadelphia Fusion — who started very strong but, despite Chef Heidi's ministrations have been floundering a bit this stage.
The Fusion's first win in weeks came this week against perennial underdog Shanghai Dragons. Shanghai's consistent improvement contrasted with the Fusion's slump meant the two met in the middle. It was an exciting match when Shanghai — perhaps unexpectedly — took two maps and brought it to a map five.
The match also led to some controversy off the field, when some casters were upset the crowd booed Carpe's "tactical crouch" after an easy kill on Ado. Ultimately, Shanghai fell on the tiebreaker map, but their adaptation to alternate strategies and their cohesion as a group has only improved. Despite last week's thrilling match, their games this week are against the NYXL and London Spitfire, so it's likely we'll be waiting until Stage Four for their first match win.
This week, nearly every match is going to be a decider match for the finals. Both the Valiant's matches should be excellent and hard fought. Though it depends on how the previous matches play out, the match-up between the Seoul Dynasty and the Outlaws on Saturday at 5:00 p.m. will likely be the match that really finalizes the entire bracket before the finals on Sunday. At this point, really anything can happen — so just enjoy the ride this week.