Two Dark Nexus skins arrive in Heroes of the Storm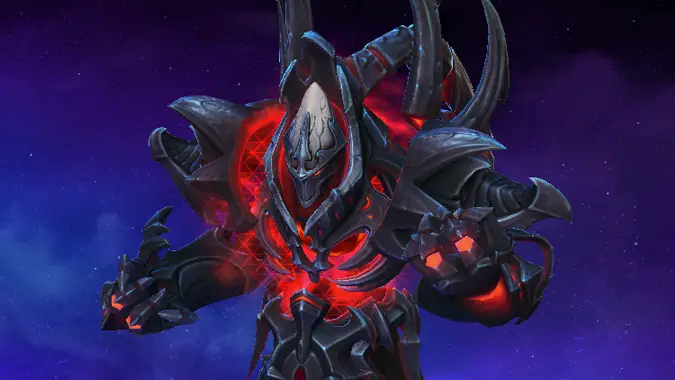 In the closing panels of yesterday's Heroes of the Storm comic, Blizzard teased a few upcoming Dark Nexus-themed skins. Today, two of them have been officially unveiled. Alarak and Gul'dan are the first to receive the Dark Nexus treatment, both of which you can see in action in this teaser video:
The Dark Nexus aesthetic is quite interesting. It appears to be a combination of classic eldritch/demonic imagery blended with effects that evoke modern technology: glitches, garbage data, and polygon patterns. It all makes sense, in a way. After all, the Nexus itself is a mashup of all genres and realities. The Dark Nexus would naturally be a mashup in a similar sense.
An ancient evil has emerged from the forgotten darkness, manifesting itself in forms that are familiar, and yet… twisted. What you see before you are reflections of the heroes and villains they seek to emulate—avatars who know only contempt and wield utter chaos. Behold the power of the Dark Nexus!
These skins are available for purchase in-game right now, along with one heck of a bundle that's available until May 14.

Assuming you already own both Alarak and Gul'dan, this bundle comes out to a price of 3,116 gems. If you don't already have gems saved up, you'll need to spring for the $35 gem package, which yields a total of 3,750 gems. If you'd rather craft these items individually with your shards, the skins and manta mounts are Epic quality with a price of 600 shards each,. However, the hound is a Legendary mount, meaning you'll need 2,400 shards each.
Personally, I'm likely to save up my shards to craft the one or two skin tints I really want. Spending $30 worth of gems on a bundle full of tints I probably won't ever use doesn't seem like a wise use of my money.