Now you can build your very own Lego Reinhardt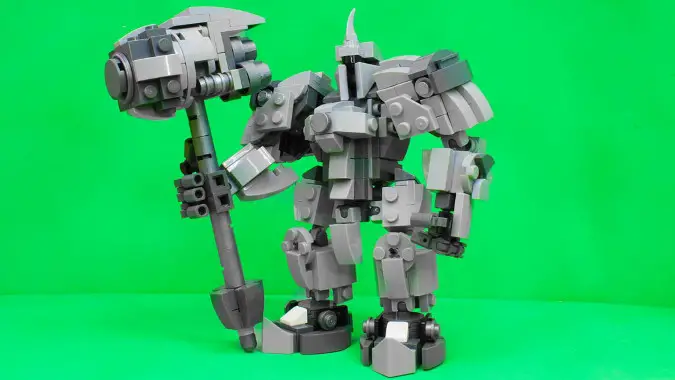 Some things just make the inner ten year old in me smile. This is one of them. For hachiroku24 on Reddit posted not only his pretty cool little Reinhardt Lego figure, but he also posted a list of bricks to make it, and a video showing you how to do it if you happen to want to make one yourself.
Now I'm going to be up front and admit that when I watched the video the amount of small pieces and the detail work needed to build him is a bit daunting for someone like me, who hasn't got the collection to even attempt something like this. But it's a step by step video, so if you're more savvy about Lego than I am or just looking for a challenge, you can go out there and collect up the parts. It's a pretty detailed pile of bricks, based on this picture they took of all the components needed to make ol' Reinhardt, but if you're motivated (and don't have much of a brick collection yourself) you can buy bricks piecemeal from Lego.
I think the reason for it being so elaborate is the really impressive amount of articulation this brick version of our favorite crushing machine has. He can lift the hammer, change his stance, even sit down. I'm deeply envious. Quite frankly it makes me wish Blizzard would get together with Lego or any other manufacturer of brick style assembly toys (Blizzard used to have a deal with Mega Bloks, but I have no idea if that's still ongoing) and do a whole line of Overwatch sets and characters.
If I ever feel motivated I just may try and make one of these. What about y'all? Would you try and copy hachiroku24's creation, or maybe work on a Lego version of Hanzo or Zarya? I'd love a Lego Zarya.