L.A. Valiant are the last undefeated team in Overwatch League stage 4. Can they keep it up?
Click here for more photos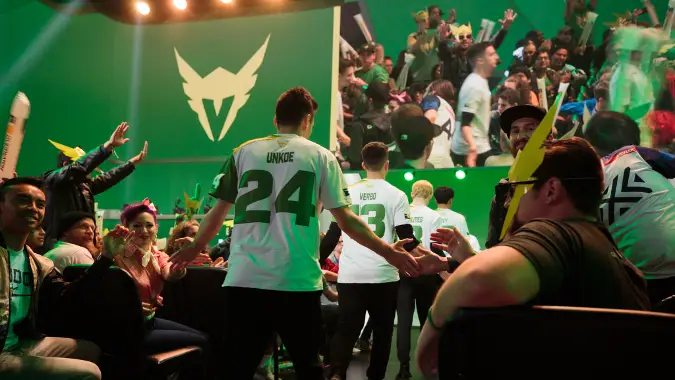 My husband and I have two small kids, so when we get a precious chance to watch something other than Blippi, we usually watch together even if we're not interested in that particular programming. This time of year we're usually watching a lot of baseball — he loves the Cubs; I root for the Yankees but I'm not too invested. Right now we bounce between that and Overwatch League, which he mostly just groks based on the teams he knows from League of Legends esports.
The game on Saturday night between the two remaining undefeated teams Not-Immortals and The Team Owned By The Wilpons annoyed him. There was a much-shared clip of NYXL's Pine grappling behind the final point on Gilbraltar as Widowmaker, to rather mixed results. "They're showboating for flashy plays. They're not taking this seriously and in this situation that's going to lead to a loss." Like most married people, I hate admitting when he's right, so let's just say the L.A. Valiant are now the only undefeated team in stage four.
Watch Game 4 NYE @ VAL | Stage 4 Week 3 from OverwatchLeague on www.twitch.tv
This week we've got the new Stats page to comb through. The page leaves something to be desired — for example, you can sort by role but not hero. A Support player maining Mercy is going to measure up radically different from a Zenyatta specialist. Even so, sometimes this is elucidating, because stats can show how a player like Jjonak can make a huge difference to his team. However, it can also be confounding. How does Altering have the most healing done with relatively few deaths per minute, yet Shanghai is still at the bottom? Even so, having additional access to in-game stats is great for fans.
Coming up this week, I — I don't want to say who's playing. I'm not really superstitious but the anghai-Shay agons-Dray have been improving week after week, while continuing to crack like a mirror in the big, do-or-die team battles. Diya was even voted MVP last week. Wasted ults, weird positioning, and what seems to be a lack of communication means they're still winless — for now. But then, I've typed that exact line before. I figure just in case I actually am a jinx, I should just nod excitedly in the general direction of 8 p.m. later today, then knock on some wood real quick.
The Valiant's schedule also gets tougher, as they face off against the London Spitfire at 6 p.m. Thursday. London was dominant in previous stages, but their record right now is less than stellar. The meta change has not been kind. Can the Valiant continue their win streak?
Find the full week's schedule on the Overwatch League site and tune in tonight for the start of week 4, which kicks off with the Seoul Dynasty vs. the Boston Uprising.