WoW
Jun 8, 2018 4:00 pm CT
The reward for 100 Exalted reputations was terrible, so Blizzard changed it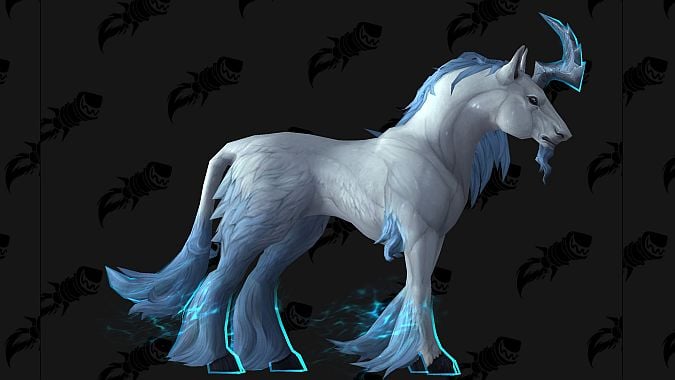 Remember the other day when I — ahem — expressed dissatisfaction with the newly implemented reward for acquiring 100 Exalted reputations? Well, it looks like I, and I alone, am responsible for the updated reward discovered in the latest Battle for Azeroth beta build. You're welcome, everyone.
Okay, fine. I'm probably not the one responsible for the updated reward. But still, it's been updated from the original Spectral Phoenix, and I personally think this one's an improvement. Shown in the header image above, the new 100 Exalted Reputations achievement now rewards the Pureheart Courser, a majestic white unicorn with blue highlights around its horn and feet. Unfortunately, good as it may look, it's likely a ground-only mount, which the Spectral Phoenix was not.
Still, it's an improvement over the old one — which I'm not sure I can say about the other mount reward that was updated with this latest beta patch. Previously, the Horde of Hoofbeasts achievement — which is earned for acquiring 400 mounts — awarded players with the Tempestuous Skystallion. The Skystallion is a fiery red recolor of the Hearthsteed and frankly looks badass as all h*ck. So what mount has replaced it as a reward?
The Frenzied Feltalon mount, a green recolor of the Flametalon of Alysrazor and Voidtalon of the Dark Star mounts. Now, I'm not saying the Frenzied Feltalon is a bad mount by any means. In fact, it's pretty dang cool! If it had been the reward all along, I wouldn't have a complaint in the world. But when you compare it to the old Skystallion, it's hard to not feel like the Feltalon is a downgrade.
But hey, the prize for earning 350 mounts is still totally rad, and as long as Blizzard doesn't change that, I won't complain. Which of the mount rewards is your favorite? And how do you feel about the updated ones when compared to the old ones?