What's your favorite detail in WoW?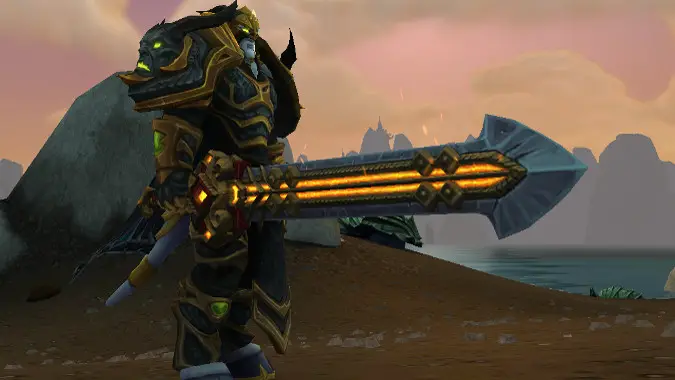 When World of Warcraft introduced Allied Races, I wasn't entirely sold on the concept. But one of the things I realized early when playing my Lightforged Warrior was that I preferred my Lightforged to my old Draenei in every way. It's all about the host of small details. On the surface it doesn't seem like there's much difference between them. But when you look at their hair and horn options, their permanent sigils, the light tattoos you can choose from, the gold around their hooves — it all adds up. All of these little details combine to form a vastly preferable experience for me personally even though they're hardly massive alterations. Lightforged Draenei still look like Draenei.
This got me to thinking. Why do I prefer the Warlords of Draenor weapon model Calamity's Edge to the classic Burning Crusade weapon it's inspired by, Cataclysm's Edge? Partially it's the color — the version I'm using is a good color match for the armor I've basically used since patch 7.2, and as a transmog fiend I love to match. I also love the way the blade forms a kind of spade tip at the end, the way the detail on the sword doesn't look quite as extraneous as the original. It's just a very good looking sword and one I appreciate, because of the small details of color, size, shape and form that make it up.
This is not to say that I don't love Cataclysm's Edge. Before the wardrobe I farmed for it on multiple Warriors and Paladins.
Small details like using a character that we haven't seen in years again, or naming a class ability after a boss move (I love Defile and I always will) make the game feel real and alive to me. Like a place with memory and weight. So what's your favorite detail in WoW? What makes you stop and appreciate a moment?