WoW
Jun 18, 2018 4:00 pm CT
No, Blood Trolls are not going to be an Allied Race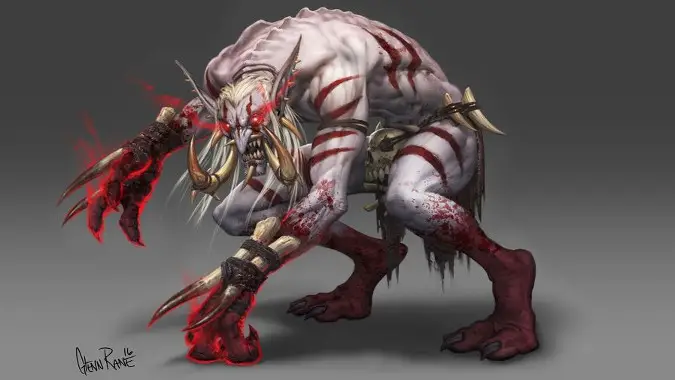 There was an IGN stream at this year's E3 with World of Warcraft Production Director John Hight, and a slip of the tongue made there has gained so much traction that Ion Hazzikostas had to deny it on last Thursday's live Q&A on the Warcraft Twitch channel. But the official answer is no, Virginia, we're not getting Blood Trolls as an allied race. As Ion put it, the Blood Trolls are a crazed group of zealots that worship the Old God G'huun. They would be, to put it mildly, a terrible choice as allies for either faction.
Why? Because they're murderous lunatics who worship a being that wants to corrupt and infest every living thing on Azeroth, you see. It's not a good look for either faction. As much as each faction likes to think the other is a pack of murderous lunatics, the Blood Trolls kind of have us all beat what with that whole let's unleash a being that is literally the cosmic embodiment of disease and rot to eat our whole planet thing they're up to.
As soon as this one hit the forums, Ornyx made sure to give us the skinny on how much this is not currently planned.
Just to clear the confusion, there was a small segment in yesterday's E3 interview with IGN in which we weren't entirely clear – but we want to clarify that Blood Trolls are not currently planned as an Allied Race.
It can be easy to mix up words in interviews when you're covering a range of story points such as that of the Blood Trolls and their interactions with the Zandalari – but we just wanted to be sure we could get a note out on this before we get more Allied Race rumors flying around. ;)
Thanks for the discussion here!
I think this one is pretty understandable. John Hight is a passionate guy who is busy not just working on Battle for Azeroth but also doing press for it. He simply mistook Blood Trolls for Zandalari Trolls. It's always worth remembering to never take anything too seriously until we get a full announcement. Even if Blizzard was thinking about giving us Blood Trolls as an Allied Race they'd never confirm it until they were sure they were ready to go, and that definitely doesn't seem to be the case here.