WoW
Jun 28, 2018 11:00 am CT
Artifact Power items can now be sold, try not to think of how much gold you'd have if you never used any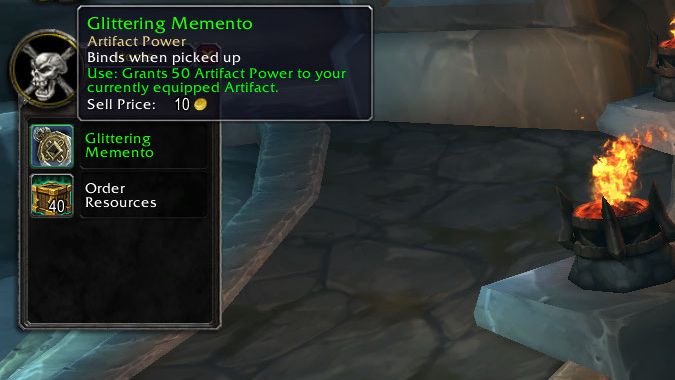 With the latest World of Warcraft update, players were allowed to complete the quest that marked the beginning of the end of our Artifact weapons. As you're likely aware of by now, completing this quest maxed out all of your Artifacts — putting them at a total of 126 traits each. Because of this, there's absolutely no need to use any of the Artifact Power tokens earned from here on out. For a very short window of time, this meant doing a lot of deleting — thankfully, Blizzard hotfixed it so players could vendor Artifact Power tokens for sweet, sweet gold.
The sell price varies per item, but it appears to be 10 gold for uncommon-quality AP tokens, 25 gold for rare-quality AP tokens, and 100 gold for epic-quality AP tokens. It's worth noting that you can sell the tokens regardless of whether or not your character has completed the Silithus quest — heck, you can sell them even if your character hasn't hit 110 yet! In other words, it just got a bit more lucrative to level a character and/or complete all the quests throughout the Broken Isles.
I'm sure the question on everyone's mind is whether nor not this makes it worth it to spend time farming "easy" sources of Artifact Power. Sadly, I don't have a one-size-fits-all answer to that. The gold disparity between any two players is potentially huge, with some viewing 40,000 gold as more than they've ever had and others viewing anything under 1 million gold as poor. Regardless of which group you're in, though, I do think it's worth it to go back and complete unfinished quests and farm all treasures you may have missed throughout the zones. (HandyNotes and the Legion Treasures plugin will certainly help in that regard.)
If you've already done that, are bored, and actually want to take a stab at farming AP tokens for gold? The Broken Shore is the first place that jumps to mind, as it has Hidden Wyrmtongue Caches that respawn on a regular basis. Again, you'll only get 10 gold per uncommon-quality token, but it's probably one of the more consistently plentiful locations to find Legion treasures. As I said, though, it's just the first place to jump to mind — do you folks have any recommendations on consistently farmable sources of AP tokens?
I will note, it's not entirely clear if Blizzard intends to keep the gold values the same once Battle for Azeroth launches, nor is it clear if they intend to have AP drop as often. If farming AP in any capacity turns out to be a good way to earn gold, it's practically guaranteed that Blizzard will nerf it so players aren't going back to Legion content to earn gold. That's just a guess, though — we'll have to wait to find out. For now, have fun either never farming AP again, or farming it with renewed fervor in a desperate bid to get gold.