Hero 28 of Overwatch seems to be… a hamster?!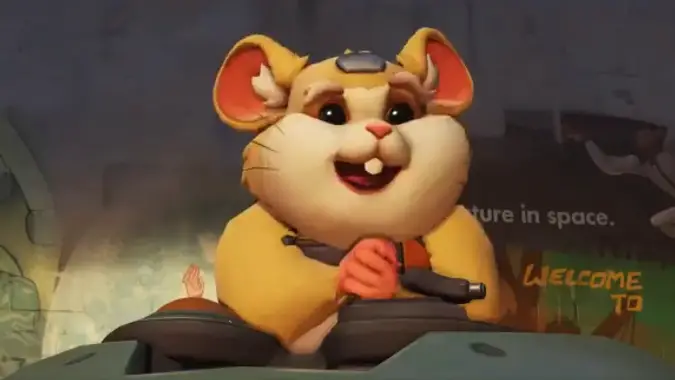 Rather early this morning, the Overwatch team added another to their string of teasers about the identity of the next hero, the 28th one to join the fight. There were a lot of guesses, especially focused on a "smaller test subject" from Horizon, Hammond, which we all assumed was a smaller monkey. After the previous teaser featuring a huge ball rolling across the screen, many people jokingly guessed that the next hero might be a gigantic genetically altered hamster! Wouldn't that be completely ridiculous! There's no way the Overwatch development team would seriously add an enormous hamster as a playable hero! Hold on to that thought for a second.
The latest teaser begins with a huge ball rolling up like before, but then that ball morphs, Transformers-style, into an Omnic-like robot, with rapidly firing guns similar to Orisa's. It looks fairly similar to how some of the bots rolled out in Uprising, then immediately got up to start shooting. After a second of guns blazing the robot opens one more time, similar to D.Va's mech, to reveal the pilot. The pilot is a big, cuddly, cute hamster. What.
Setting aside the murderous hamster of it all for a minute, the hero seems to say tank. I'd guess that while in its ball, the hamster will be heavily armored, to be used either as an escape mechanism or to roll out real quick with a Lucio and set up a defense ASAP for Control maps. As such, the hamster may end up playing similarly to Winston, but without the third axis motion sickness of the other animal hero.
The way it was firing also seems fairly deadly so a damage hero is also definitely possible — but that's all in the tuning. We've seen plenty of heroes get their damage nerfed from all-cylinders to barely a tickle. It will be interesting to see how this plays out in the current meta, which is already getting to be rather tank-heavy and slower than previous incarnations.
I just hope we don't actually have the poor little hamster the way we kill Baby D.Va outside her mech. I also hope that he isn't given the name Hammond, after the "small test subject" from Horizon. That level of pun is just inexcusable. (Though it totally seems like the 28th hero is going to be called "Hammond the Hamster." GG, Blizz.)