New Overwatch hero Hammond does stupid pet tricks in his Wrecking Ball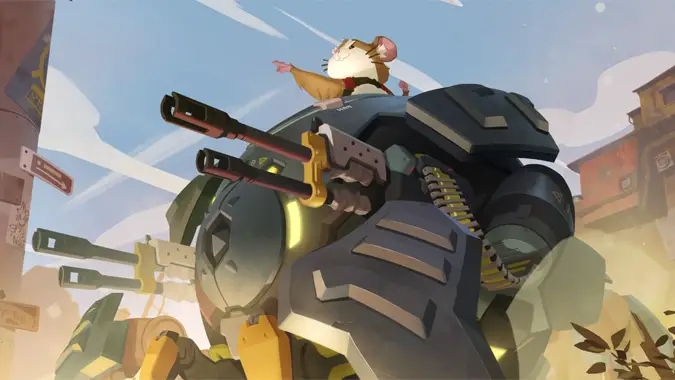 Hammond — a.k.a. Wrecking Ball — is perhaps the most unexpected hero introduced to Overwatch yet. He continues to surprise with his moves, becoming a superpowered ball of fluff and unrelenting steel that can vault around the map at will.
His shenanigans are centered on the Grappling Claw ability which allows him to grip onto a surface, similar to Widowmaker's Grappling Hook. However, once Hammond is gripped on, he'll stay attached until he lets go. This means he can slingshot himself around in his hamster ball. If he's going quickly enough in ball mode, he'll also knock opponents back. Already the pros, amateurs, and redditors have found fun new ways to play using this ability on the PTR.
Surprisingly enough, this even has some tactical applications.
ARVE Error: No oembed src detected

ARVE Error: No oembed src detected

ARVE Error: Need Provider and ID to build iframe src.

Hammond can also slingshot himself under the gap in King's Row to flank the enemy team. But I know you're not here for game sense and good play. You're here for the trick shots.
One thing that always seems to go well with unintended nonsense is the shark on Blizzard World. If you're playing with a bunch of other Hammonds, it may be an even better ride than the teacups.
There are several great clips of Hammond doing his best Spider-Ham impression around the world, from Temple of Anubis to Hanamura. Maps with towers or walkways are just amazing, like this one using the statue on King's Row to vault into the window — no, the other window. There's a whole gif-heavy subreddit dedicated to zany Hammond plays called Hammond Rollouts now, if this post just isn't enough.
My personal favorite clip involves a full 12-man hamster ball racing head-to-head. This one is on Junkertown, which doesn't have a ton of architecture you can vault over or around like other maps. It's just a clean, nail-biting race to the finish.