Uh oh, I've gone and fallen in love with this new Hanzo statue from Blizzard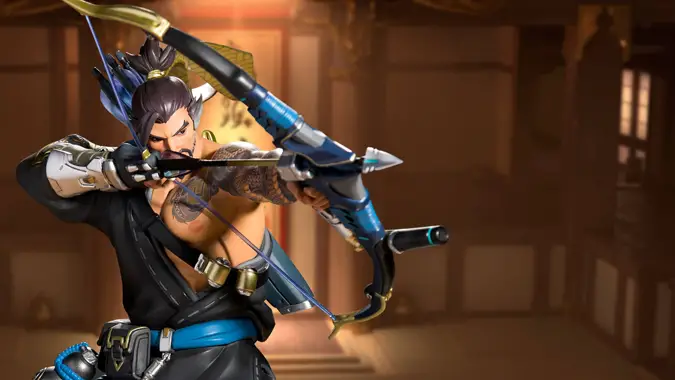 Hanzo, everyone's favorite dragon-slinging bowman, is headed to the Blizzard Gear Store to join a growing line of gorgeous Overwatch statues. Designed and sculpted by Blizzard, this 13″ hand-painted statue features Hanzo in all his glory. This is easily the most complicated design Blizzard's done to date, and it's all because of that tattoo. Hanzo's the only character released so far that has one, and the amount of detail in the tattoo alone is astounding. But hey, that's not all — Hanzo comes with weapon accessories as well. At 13″, the statue stands just a little shorter than the Widowmaker statue but a smidge taller than his brother Genji's, which is still available for purchase.
The $175 price tag might seem a little steep, but these statues are not only large, they're high-quality. This isn't a toy — it's a display piece intended to sit on a shelf and look incredible. Hanzo is available for pre-order, but he's not shipping just yet — if you pre-order now, you can expect delivery somewhere before the end of Q4 2018. Blizzard released a short preview video that showcases the statue down to its smallest details.
https://www.youtube.com/watch?v=6i4myUlmkig
I have yet to order any of these statues myself, but I have to admit I am highly tempted by this one. Look, I love Hanzo. I can't play Hanzo — my aim is, let's face it, pitiful — but I love the character, I love his story, and oh man do I love this statue. Hanzo's standard skin has a lot more detail in it than you'd guess at first glance, and the way they've crafted the flowing printed fabrics and carefully-stitched seams is nothing short of extraordinary. My only regret is that he doesn't come with Dragonstrike's twin dragons — the statue doesn't really suffer without them, but they would've been nice to see. Regardless, this is a gorgeous work of art that would make any Overwatch collector incredibly happy.
You can pre-order your own Hanzo statue now in the Blizzard Gear Store. While you're over there, don't forget take a look at Blizzard's other statues as well — Tracer, Reaper, D.Va, Widowmaker, Genji, and Mercy are all still available for purchase.