Seven decks from Hearthstone's Summer Championship to try out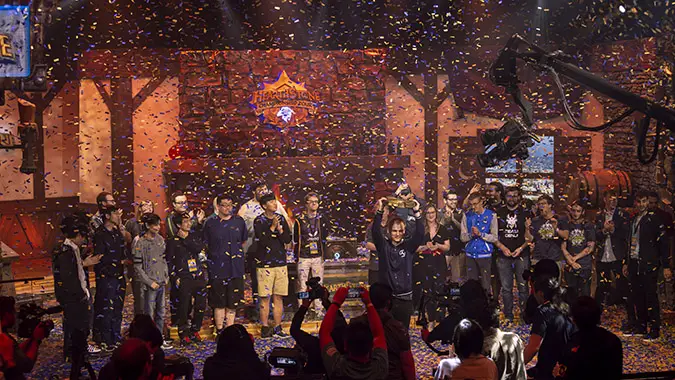 The Blizzard Arena isn't just for Overwatch League: Hearthstone took over recently for the HCT Summer Championships, wrapping up by crowning a brand new champion.  In the end, European player Bunnyhoppor emerged victorious from a field of 16 players.
And if you want to mimic the success of the top 16, you'll want to mimic their decks. So let's take a look at a few of the decks and classes that went the distance in the Summer Championships, shall we?
The classes that went to the championships
All nine classes were represented at the championships this year, with 14 different deck archetypes. Compared to previous seasons, this was one of the most diverse metas we've had in a while. Here are the decks we saw:
Druid: 13
Hunter: 4
Mage: 5
Paladin: 3
Priest: 4
Rogue: 9
Shaman: 11
Warlock: 14
Warrior: 1
But the proof is in the cards. Let's look at the decks.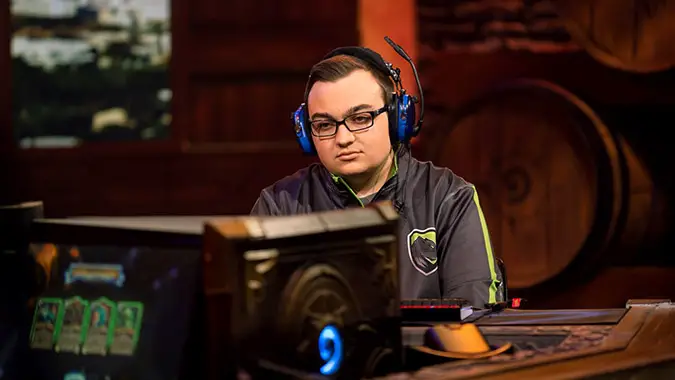 Killinallday's Token Druid
Deck code: AAECAZICBPcDxAaU0gKZ0wINQF/9AuYFhQjkCKDNAofOApjSAp7SAtvTAoTmAtfvAgA=
Killinallday was the player I selected for the Choose Your Champion and he didn't disappoint as he went on a tear before bowing out in the semifinals to A83650. And he was one of only three players to run a Token Druid deck. Cards like Violet Teacher and Wispering Woods were used to generate a board. Then Savage Roar and Branching Paths would buff your army while Soul of the Forest ensured that your opponent would need multiple responses to deal with your board.
BloodTrail's Taunt Druid
Deck code: AAECAZICBofOAsLOAq/TAubTAvHqAt3rAgxAX+kBxAbkCMnHApTSApjSAp7SAovhAoTmAo3wAgA=
This was one of my favorite decks to climb the ladder with in June. It has incredible staying power and has the ability to steal games just by bringing out Hadronox repeatedly — which brings out all of the deck's many taunt minions repeatedly. Unfortunately, it seems it was only good on ladder, because it didn't take top place at the tournament.
Nalguidan's Recruit Hunter
Deck code: AAECAR8K8gXFCPgIm8sCws4ChtMC5+ECnOICtuoCgPMCCo0BtQPGwgLrwgKczQLTzQLd0gLh4wLt6gLy8QIA
Nalguidan was one of four players to bring Recruit Hunter into the tournament. Seeping Oozeling lets you gain the Deathrattle of any minion in your deck, which works effectively when Kathrena Winterwisp is the only Deathrattle card. When you use Play Dead to activate the Oozeling (or Kathrena), they'll net you any number of cool, big minions like The Lich King, King Krush, or a Charged Devilsaur (which won't have that Battlecry restriction because it wasn't played from your hand).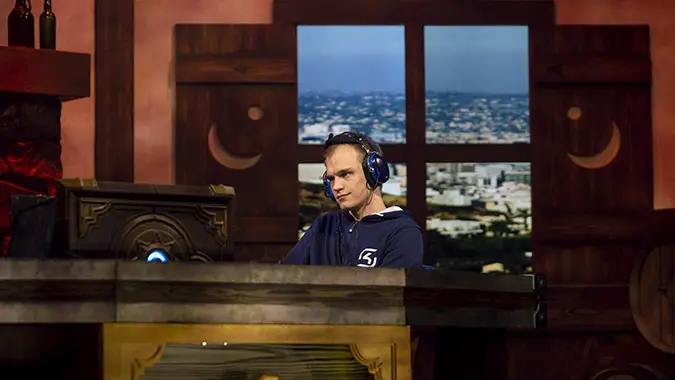 Bunnyhoppor's Shudderwock Shaman
Deck code: AAECAaoICpUB9QT4DNPFAqvnAuDqAqfuAu/xAoH2Au/3AgqBBP4F/wWyBvYH+wyXwQLHwQKbywLz5wIA
What stood out to me the most in Bunnyhoppor's Shudderwock Shaman is that lone copy of The Black Knight. You normally wouldn't find it in on ladder just due to the sheer diversity of decks you'll encounter, but in a limited field of a tournament, it can be a game-changing card for punching through all the Taunt Druids and Cube Warlocks in the lineup. It's a great tech card which resulted in a championship win for Bunnyhoppor. Overall, Shudderwock Shaman held a 10-6 record by the end of the tournament (good for 63%).
Rase's Control Mage
Deck code: AAECAf0ECNACuAPTxQKgzgLCzgKb0wLy0wKj6wILTYoByQPsB5vCApbHAtXhAtfhApbkAr7sArfxAgA=
Like dragons? This deck might be up your alley. As Control Mage, your plan consists of keeping the board clear with your arsenal of spells before dropping The Lich King, Sindragosa, or Dragoncaller Alanna into play. If your opponent manages to handle those, Frost Lich Jaina can back you up with her relentless army of Frost Elementals. Rase's list curiously included an unusual addition with an Abomination as added board clear.
Tuma's Odd Paladin
Deck code: AAECAYsWBq8E+QrYxwKL5QL96gKe+AIMRvIBpwX1BZvCAoPHArjHAuPLAvvTAtHhAtblArXmAgA=
I climbed from Rank 12 to Rank 4 within 6 hours using a modified Odd Paladin list. Rase's Tinkmaster inclusion has a chance of morphing one of your 1/1 Silver Hand Recruits into a 5/5 (or a furrier Recruit)… thhough it has the flip side of turning one of your opponent's minions into something else which may or may not be positive. It's an indirect (and random) way of removing an opposing Taunt minion on the board.
Jinsoo's Even Warlock
Deck code: AAECAf0GCIoH+wf4DObCAqDOAsLOApfTAs30AguKAfIF+wa2B+EHjQjnywLx0AL90AKI0gLY5QIA
11 players brought Even Warlock into HCT Summer Championships, making it the most represented archetype at the event. This is a deck where you do want to take as much damage as you can to reach the point where you can play an activated Hooked Reaver. Jinsoo's list also included a Stubborn Gastropod that was capable of challenging opposing Mountain Giants.
And those are our deck highlights from the Summer Championships! Try out some of these decks if you haven't yet already — Though if you plan on taking these onto the ladder, you may need to modify and refine the lists to suit your needs. Give them a try and see what works.
Meanwhile, I wonder what's going on over in the Netherstorm…