You can earn double the gold in Hearthstone with a little help from Ragnaros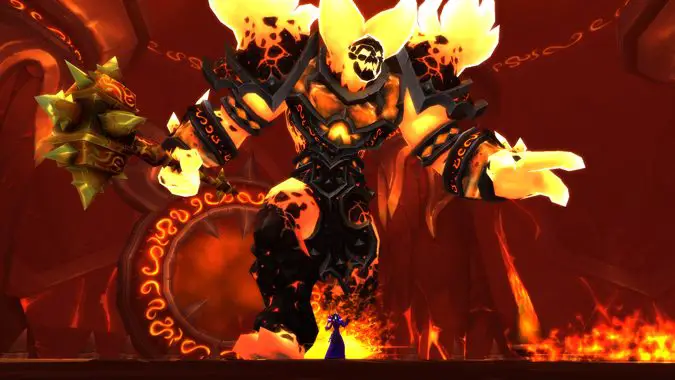 I'm not sure the usual "die, insects!" line works here, but Ragnaros is pretty fond of it, and I'd hate to upset our resident Firelord since he does have an occasional fondness for murdering us.
But it's only an occasional fondness for murdering us, so I'm sure it's fine that he — it? — has shown up in Hearthstone this week. The Midsummer Fire Festival has returned to the game with a host of fiery festivities, including:
Two Ragnaros-themed Tavern Brawls, one of which is a replica of last year's brawl which featured mini-Ragnaros pestering each player with fiery death. It's kind of his thing.
Double gold rewards for every quest completed, which is a great way to stock up on cash to buy expansion packs. (And, hey, we have an expansion coming soon!)
"Toasty tavern trimmings," which I assume means the fiery sparks in the Hearthstone client background. It's pretty festive. I had no idea Ragnaros was this into party decor.
Some of these are a little dubious in their fire theming, but I'm not going to argue the point with the Elemental Lord of Fire. But, really, how do these gold rewards fit the theme? Is the gold on fire? Is the gold made of fire (in which case ow)? Is Ragnaros like a dragon who sits on top of a pile of gold we can loot? Er… before I get too distracted, the best way to make the most of this event is to log on every day to do at least one quest. If you have a quest offering a low gold reward, drop it and pick up another (you can do this once per day) — though it's random, you can always live in hope of snagging more gold. The brawl kicks off Wednesday and will help even the most casual player get through their quest log, as it uses pre-constructed decks so you don't have to build a winning deck of your own.
The festival has already begun, and it will wrap up at the end of the month, on July 30, so you have two weeks to work on your gold hoarding skills. (Insects.)