WoW
Jul 17, 2018 11:00 am CT
Sorry returning players, Blizzard doesn't plan on changing Allied Race requirements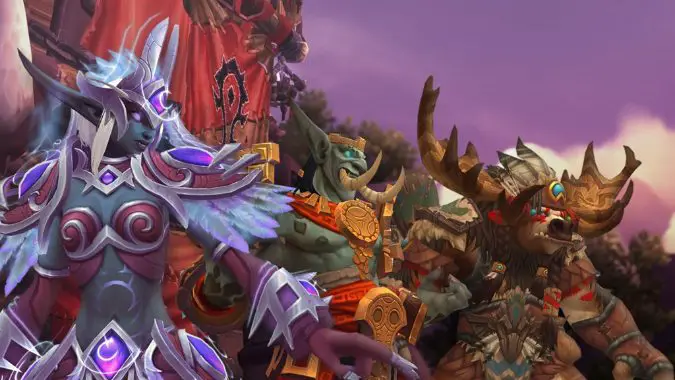 Looks like those reputation requirements for Allied Races won't be easing up anytime soon, if at all. Allied Races were announced as a Battle for Azeroth perk — but some Allied Races were introduced with Legion. Each of the four currently available Allied Races have their own reputation requirement. Highmountain Tribe for Highmountain Tauren, The Nightfallen for Nightborne Elves, Argussian Reach for Void Elves, and Army of the Light for Lightforged Draenei. Each race starts at level 20, and leveling any race to max level unlocks a beautiful set of Heritage Armor.
But with Battle for Azeroth on the horizon, players were wondering if those requirements would eventually be relaxed. After all, we're all going to be leveling through Kul Tiras and Zandalar — we aren't going to be on the Broken Isles anymore. Unfortunately, it looks like those reputation requirements are here to stay, according to the WarcraftDevs Twitter:
There are no plans to change Allied Race unlock requirements. https://t.co/RacQNDdhdF

— WarcraftDevs (@WarcraftDevs) July 16, 2018
On the one hand, this makes perfect sense. If we want these races to be our allies, we need to prove ourselves to them first. Logically speaking, a reputation requirement isn't out of place at all here. On the other hand…this means there's going to be quite the grind in store for any new or returning players that would like to unlock one of the four current Allied Races. Highmountain should be fairly easy, because you earn a large chunk of reputation simply leveling through the zone. Similarly, Nightborne should be a little easier to obtain now that reputation requirements for story quests have been relaxed.
But Argus is still locked up pretty tight, and takes a considerable amount of time to get through as far as the reputation grind is concerned. There are reputation tokens out there obviously, and plenty of World Quests to help players along. Still, when players are eager to get to the brand-new content, it feels a little out of place to have some of those Battle for Azeroth features locked firmly behind Legion content.
Returning players or new players want to hop right in where the action is — that's Kul Tiras or Zandalar in just a few short weeks. With four of those interesting new Allied Races requiring Legion reputation, it means that they'll be unable to do so. Either that, or they'll be hopping between leveling in new zones, and grinding out World Quests and missions in last expansion's content.
Regardless, it looks like that's the only option for the current Allied Races for the foreseeable future. But hey, while WarcraftDevs stated there are currently no plans, it doesn't mean they're never going to change their mind. We'll have to wait and see on that one — for now, if you've been dragging your feet on unlocking Allied Races in the hopes it would suddenly get easier…well, you might want to get to grinding.