Not everyone's happy about Hearthstone's $80 "Mega Bundle" of Boomsday cards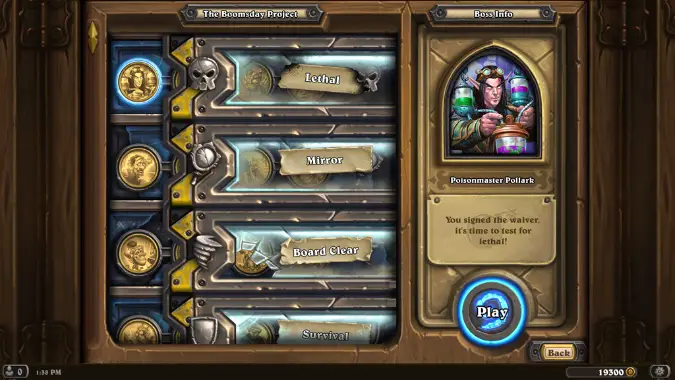 Some people are unhappy with the price for Hearthstone's next expansion, The Boomsday Project. One such individual is this poster on Reddit, who compared the price of the Mega Bundle — which provides a heap of cards and a new Warlock hero to use — to three games: Witcher 3, Fallout 4, and Civilization 6.
Now, it's true that if you buy the Mega Bundle, that's $80 USD for 80 card packs and an alternate Warlock hero. However, that alternate hero is unavailable anywhere else and would cost you $10 if it were available anywhere else. Thus, you're getting $90 worth of stuff for $80. Moreover, I don't feel like saying, "I could buy these three old games for the cost of this special pre-order for the new expansion coming out" really works. Games that have been out for a while (the newest game on that list came out in 2016) tend to cost less than an expansion that's not even out yet.
The Mega Bundle isn't the only way to pre-order the expansion, however. A standard edition of The Boomsday Project is available for pre-order, and it provides 50 packs. Now, part of the problem could be that player expectations were set by the last expansion, the Witchwood, which had a pre-order price of $50 USD for 70 packs. If so, that's understandable — but it should be pointed out that previous expansions used the $50 for 50 packs structure that The Boomsday Project does.
There's certainly room to debate whether or not it's worth spending $80 to get 80 packs and a new Warlock hero you may or may not care about. If you're like me, the Mecha-Jaraxxus is actually more of a draw than the extra packs, but I play Hearthstone like an enfeebled Tortollan and mostly just like to try to have fun while I'm there.
The price in question is clearly up — $30 more for 30 more packs and a new hero might not be to everyone's tastes, even if it's in line with expansions before Witchwood and seems reasonable compared to how much packs cost after the pre-order period. These same packs will cost around $1.40 or more once the expansion is live, meaning you'll spend over $100 and not even get Mecha-Jaraxxus once the expansion comes out.
Ultimately, it's a call every Hearthstone player will have to make for themselves — pay it now or pay more later? Nevertheless, if it's more than you want to spend, the standard 50 packs for $50 price is still cheaper than buying the packs after the expansion comes out. So there are options. You have until August 7 to decide.