The Queue: Largest problem with BfA, keyboard layout, and the next mount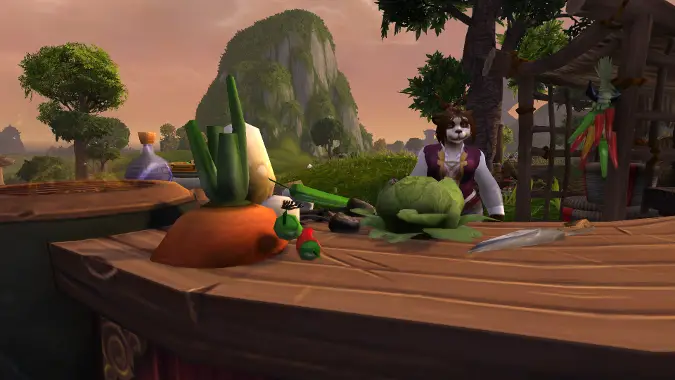 Todays Queue is not about food exactly… but if you want to make it about the amazingness of a five course meal, that's okay with me. Just be sure it's about Pandaren cooking so no one gets mad at me.
---
SHADEWIN ASKED:
Q4tQ: There is a Vendor Mount, Transmog Mount, and soon an Auction House Mount. So, what mount comes next? I vote barber mount!
My next mount would be a very simple mount: one that will sell the full gambit of food for each major level mark.
Hear me out.
While leveling nothing is more annoying than zooming around the world and realizing that you haven't gotten new food in ten levels, just when you need some. When you're at max level theoretically on your main you'll have some cheap-o stat food, so you'll probably be okay there; but when you're on your alts and need a quick eat you're kind of pile-of-dung-out-of-luck. By the time that you fly back to a vendor to get some you're already at full health, so … it's a bit pointless.
If Blizzard would update the food selection on the vendor mounts now that would be quite amazing. Heck, toss in a gold sink so I have to waste a few hundred thousand to do it, and I'll still be happy. But please, Blizzard, please, give me something good to eat!
---
USENIT ASKED:
What's the biggest problem you have seen with Battle for Azeroth already? What is completely going to suck when it launches?
I do have some really negative feedback here … but first I want to be rational and spell this out.
It's really difficult to predict what's going to fail at launch and what's not. There's stuff that we all know of — but Blizzard knows of these things too. Quest bottlenecks (particularly around ones that require shared resources or a number of mobs killed in a small area), issues with connectivity and server load, addon interference, etc… Each of those things have shown up at multiple launches and made the experience not very great for some folks. There's probably a fair chance that they'll come about during this expansion too. Where those will be and what they'll be is kinda up for grabs.
We'll begin the expansion in a scenario (I won't spoil it). This has the benefit that it produces a sort of artificial bottleneck that will help hold back the rush of players into the non-scenario content. If 10 players start the expansion at 10am, then they're going to be done with the scenario and into non-scenario content around 11am. Those that start at 10:10am will be done and into non-scenario content at 11:10am. That guaranteed buffer is quite nice at forcing the player pool to space out a bit and hold back some problems. Of course if everyone hits a bottleneck right out of the gate like they did in WoD, then, well, it didn't doo much good.
Will the same thing happen in BfA? For the early adventurers, yes, that post-scenario bottleneck is going to exist, you're going to have trouble tagging enough mobs to complete quests in a timely manner. That'e inevitable and isn't something I think Blizzard can change without adjusting respawn rates — which we've seen them do before. So here's hoping they've got their hand on the dial.
Here's where my very negative feedback comes in though: the scenario is a group scenario, like an invasion event scenario, where we're going to need three other players to complete it. This is problematic for me for a couple reasons:
It's going to make the beginning of the expansion dependent on other players and not myself; if I end up with a group that disconnects, doesn't have working addons, or hasn't played the game for the last four years, I'm probably going to be crabby from the scenario taking forever to complete. Conversely if people get raging over watching cut scenes and the story, charging ahead without waiting for me, I'm going to be denied the experience I want.
Groups fail, it's part of having a group. This is tied to the first point but is entirely different. The dynamic of group work and challenging group content is such that it should not be possible for someone to faceroll over on their own. This inherently means that groups will, and should, fail to succeed initially. I don't think starting off the expansion by experiencing a failing group is a good thing for those unlucky enough to get into that situation (we've all been there though).
Post launch … what is the queue going to be like? It's hard to answer this, but I have a lot of misgivings about waiting for other people to level an alt at 3am when I can't sleep.
So granted, these are all a bunch of what-ifs. And the only way to tell if these things are going to be real or not is wait and see, but I'm not going to hold my breath on this one.
---
LOPSTREK ASKED:
Q4Q: What is the keyboard layout you're using in your tweet?
I tweeted this the other night — I've got a gaming laptop that's pretty nice and upgraded after several years of using an older one. It has the latest i7, 32GB of RAM, 2 TBs of SSDs, 6GB nvidia 1080, and a nice glossy screen (yes, I know … you all can hate me in the comment, but I work on Macs all day and going from their screens to a matte display is painful to me). One of the good features of the laptop out of the box is the keyboard, and that it has individual light and color controls for each key. I don't type by looking at the keyboard, but having the light there places a bit of brightness in my prepherial vision, which is really nice.
My keybind layout is (for all MMO/RPG games):
1 – 2 – 3 – 4 – F1 – F2 – R – T – V – B – F – G
The individual keys are lit as such, and life is good.
I don't generally look at the keyboard much, but the different colors are in my peripheral vision enough that the individual color distinction is nice.

Didn't think I'd like this as much as I do. pic.twitter.com/WOLRyITUuR

— Adam Holisky 💙 #ABetterABK (@AdamHolisky) July 21, 2018