D.Va's Nerf Rival Light Gun looks super accurate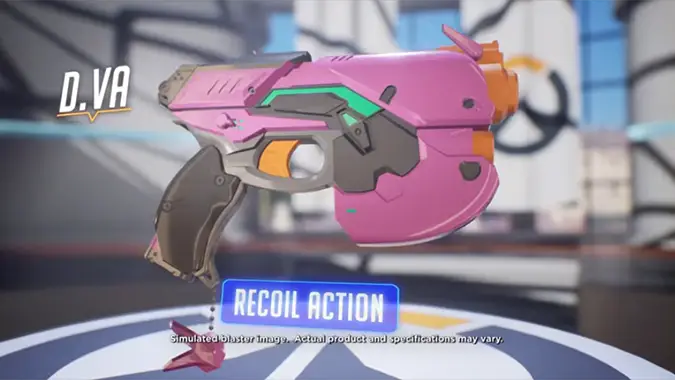 From the bunny key chain to the cute pink color, the Nerf Rival D.Va Light Gun looks surprisingly accurate to the real thing. Any Overwatch player knows this thing is no joke when in the midst of a fight, and it looks like the toy version that's coming in 2019 isn't either.
Here comes a new challenger! 🐰

Add https://t.co/mvJh2LSpxT's #NerfRival Light Gun to your arsenal in 2019. pic.twitter.com/DxL6rJNRmy

— Overwatch (@PlayOverwatch) August 3, 2018
The Nerf Rival series shoots foam balls instead of the usual foam darts, and Blizzard partnered with Hasbro to release several guns based on the ones in Overwatch. Last month, we got a peek at the Nerf Rival version of Reaper's Hellfire Shotguns, which also look very accurate when compared to the in-game models.
It does look like there's a bit of a difference between the two guns that they've teased so far, though. The D.Va Light Gun will shoot up to 80 feet per second and a section of it will recoil, while Reaper's Hellfire Shotgun will shoot up to 90 feet per second. The fact that Reaper's gun shoots farther is funny considering that, in-game, D.Va's gun has much longer range.
There have been many recreations of D.Va's Light Gun in the past by fans, including a LEGO one. You can purchase the toy guns across the internet at varying degrees of accuracy, but for a working, foam-shooting Nerf version, this isn't bad if you need to complete your cosplay or just want to own a replica for fun.
It's still unclear how you'll go about purchasing any of the Overwatch Nerf Rival guns, and we're also unsure when we'll see these (besides "2019") or how many more Blizzard has planned. I'd like to see a Nerf Rival version of Ana's Biotic Rifle, Tracer's Pulse Pistols, or better yet, Mercy's Caduceus Blaster. The Light Gun is good enough for now, and it's one step closer to a full-on Nerf D.Va MEKA.
What Nerf Overwatch guns would you like to see?