The most awkward quest to complete on a Death Knight, hands down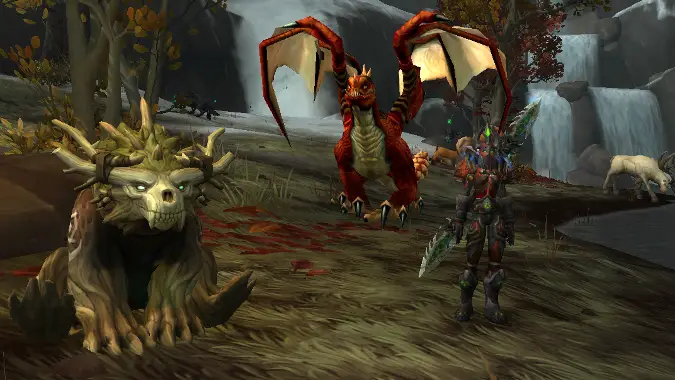 If you play a Death Knight, you might have done the mount quest in Legion. And if you haven't, I'd highly recommend going back and completing it. The entire Class Order Hall campaign is a treasure trove of questionable-to-outright evil actions taken in the name of expediency to oppose the Legion at any cost, and the mount quest in particular sees you do some very, very sketchy things. Again, it's all very good and something I cannot recommend enough.
Interestingly, aspects of that campaign also tie into a Battle for Azeroth quest. The quest is available to all Alliance players, but there is some… unique dialog for Death Knight players. Minor spoilers ahead.

Background
At one point during the Death Knight campaign, you break into the Ruby Dragonshrine and either surgically remove as few Red Dragons as possible to get what you want… or you slaughter your way through the place. And, in a move that's fairly unusual for an MMO, it turns out the Red Dragons have not forgotten, nor have they forgiven.
When you're out and about in Drustvar, heading towards Falconhurst to get some alchemical fire perhaps, you may stumble upon a quest. Said quest is given by Adalyn Forestwatcher, a Kul Tiran Druid, and once you help her out by uprooting some trees and killing a wicker wolf ghost, she introduces you to Zellestrasza, a Red Dragon.
If you're a Death Knight who did the mount quest? Zellestrasza already knows who you are.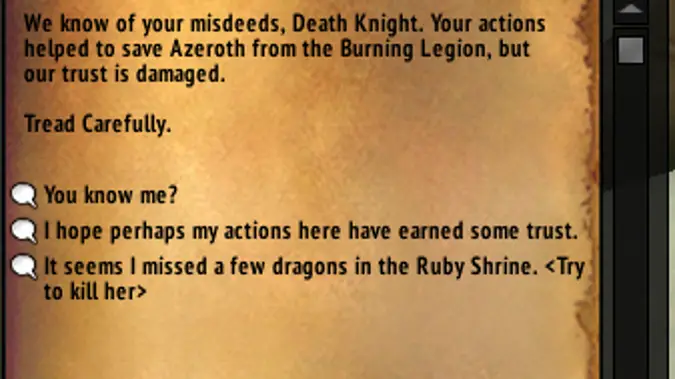 This is awkward
You can rehash your decisions at the Ruby Dragonshrine if you want — if you hacked your way through the place, Zellestrasza has some choice words for you, but as I exhibited restraint and didn't kill too many folks, she softened incrementally towards me. Still, she's a dragon of life and I'm sorta all about the death. Plus I'm riding the corpse of one of her people's greatest heroes around, so things were slightly chilly there.
I did, however, offer to help her on a quest — and that's when things got even more awkward. It turns out that Zellestrasza is there because another of her people's greatest champions just got their icy grave melted away and the Red Dragonflight is afraid some wicked, evil Death Knight — like you, she points out, if you're playing said wicked, evil Death Knight — might do his bones a mischief. As she starts a ritual to make that impossible, who shows up but Danir Emberlight, a Death Knight and your biggest fan! At first, Danir thinks you're there to help him… but he quickly realizes you just don't want anybody else to have a ride as sweet as yours.
Since that was pretty much my actual motivation, I was shocked that Blizzard knows me so well.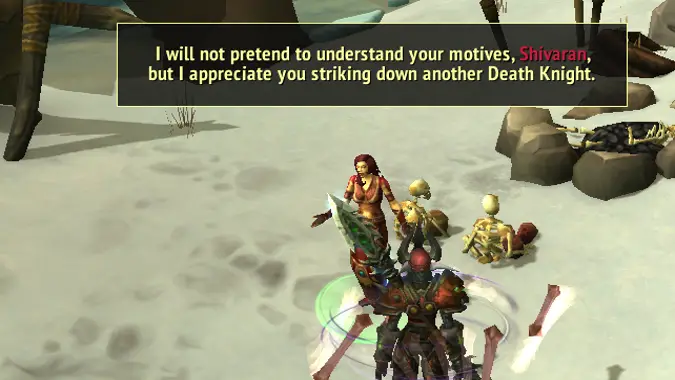 Even more awkward
Anyway, things are said and I ended up stomping Danir into the glacier because, well, I don't want him to have a ride as sweet as mine — I'm the freaking Deathlord over here. Then there's an even more awkward exchange with Zellestrasza where you can try to kill her too, if you want. It's hilarious, but you don't end up winning.
Honestly, I've done this quest twice now, once on my DK and once on one of my Warriors, and the difference between the two is amazing. I love that Blizzard actually put some consequences in for having murdered a bunch of dragons (or, in my case, just the one) in order to dig up and enslave in undeath one of their greatest heroes (okay, I totally did that part). I would love to see more of this kind of thing going forward, and I do think it's fascinating that I even have a completely plausible motive for helping her that isn't "out of the goodness of my heart" — namely, that I'm not letting some random punk DK have a mount as cool as mine.