These four brand new pet families will help fill up your Hunter's extra stable slots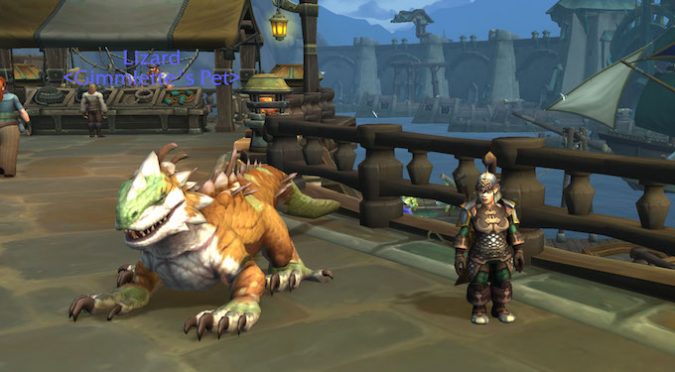 With patch 8.0, Hunters got ten more stable slots. With Battle for Azeroth, Hunters got four new pet families and I counted 46 new pets to be tamed. That's a lot to choose from when you're contemplating what would look good in your stable. I took one of each family out for a "spin," if you will: I kicked the tires and I pulled packs of mobs so I could bring you my thoughts.
Here's what you need to know about the expansion's four new families.
Lizards
These include Saurolisks (shown above), Dimetradons, and Stalkers. The last two are Horde pets found in Zuldazar while Alliance can find pods of Saurolisks in every zone. They are tenacity pets and I prefer the survivability of tenacity. Their Grievous Bite was extremely helpful when I pulled several mobs.
I'm going to keep this guy. He runs funny, but I can get used to that.
Toads
If you ever wanted revenge on those Corrupted Toads on the Timeless Isle, here's your chance. You can make those toads work for you by taming one, and this includes Bufo. A word, though: he's already camped because he drops a pet. Being able to tame him means he'll be doubly camped. Gesh'nar, a rare in Nazmir, is also tameable.
A toad's special ability is Swarm of Flies. I pulled extra mobs and found this meant my toad survived longer. The hopping kind of annoys me so I don't know that he'll be a go-to pet, but I think he has PVP potential. I'm keeping him.
Unfortunately for Marksmen and Survival Hunters, these last two new pet families are exotic (BM) only.
Krolusks
Falling into the same "ooooh new" category as Saurolisks are the Krolusks, Trilobites, and Sandhunters of this family. You can find all of these in Vol'dun, and Alliance can find Trilobites while following Flynn to Tiragarde Sound.
I'm very, very partial to my Loch Modan bear, but I can see a trilobite doing a lot of tanking for me. They do Bulwark and Calcified Carapace, both of which reduce the amount of damage the pet takes. My Trilobite survived an accidental — it was, really, I swear — pull of eight mobs.
Pterrodaxes
For sheer visual intimidation factor, these are right up there. Unfortunately, Alliance, the only ones available in Battle for Azeroth zones are in Dazara'lor, a Horde zone. If you want one, you'll have to wait until you're over there… or you can go to Un'Goro Crater and tame one of those. Be forewarned. Their size shrinks by about half when you tame them. Unlike the other pets in this list, these are in the cunning spec. They have Ancient Hide, which is a damage reduction, and Updraft, which is a slow fall ability. I was not impressed with this pet. It died a bit too often for my tastes, even with the damage reduction. Updraft is cool, as I tend to go the shortest distance between two points, cliffs notwithstanding, but this isn't enough to keep this pet in my stable.
Not looking for a new pet? What about a new model?
There are so many new models added to current families. I was excited to see the Raven model return in Drustvar. I had one from Mists of Pandaria, but its skin was changed and I abandoned it. Welcome back to the stable, Poe. I must find a stocky riverbeast, a.k.a., hippo. (Let's be honest. That's what it looks like.) But the one pet I've seen the most of Alliance side is the bee. They come in orange and black (above) or solid black. Several guild members tamed one after I got exceptionally excited in chat. They are in the wasp family, but look! It's a bee.
So, Hunters, what new pet(s) have you tamed? What pet are you on the lookout for? What do you think I should add to my stable? Believe it or not, I still have open stable slots. My next task is to come up with names for the new additions.