This hidden PTR Roadhog nerf is why Overwatch patch notes need to be more clear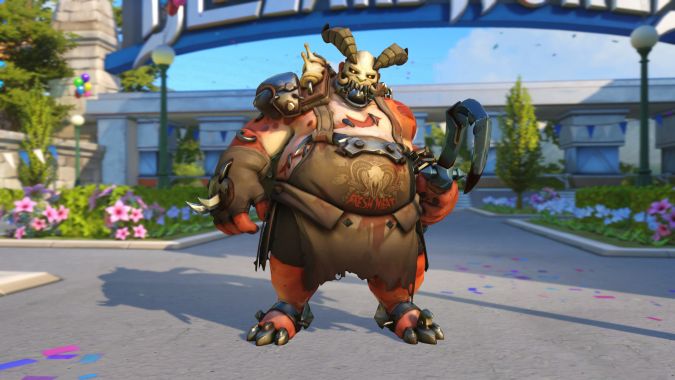 Hidden deep within the Overwatch PTR patch notes is a bug fix to Roadhog that turns out to be a fairly significant reduction to the hero's damage output. While it's not a gigantic nerf, it might have more impact than the usual bug fix and should be noted in the patch notes more clearly. The fix seems small, almost an incidental aside in the patch notes, but it's anything but minor when you really look at it:
Roadhog
Fixed a bug that prevented Roadhog's alternate fire now calculates falloff damage correctly
Roadhog's secondary fire shoots random bits of scrap metal at range and deals a chunk of damage. Typically, it's used to either pre-fire before hooking a target to guarantee the elimination, or to break barriers from heroes like Reinhardt and Orisa. You can see how it works in action below via Reddit user itsjieyang.
ARVE Error: No oembed src detected

ARVE Error: No oembed src detected

ARVE Error: Need Provider and ID to build iframe src.

In the game's current meta, a lot of teams run shield-heavy compositions that often require the team to focus down the shield before moving toward the objective. With this change, Roadhog will be less effective outside of a medium range at breaking barriers, because the damage falloff will correctly apply to his shots. In some compositions — imagine a Junkrat or a Hanzo spamming shots back through the shield — that might be impossible to do without taking tons of damage or dying.
It's a small change that makes Roadhog a worse choice when your team is trying to break a ton of shields. It's not the end of Roadhog or the beginning of a shield-only meta, but it's a change that Blizzard should make more clear for players.
This happened with Moira as well, where her healing was bug-fixed to no longer penetrate barriers. Moira players had to carefully read through all of the bug fixes to discover that what they thought was a feature of playing Moira was actually a bug all along. Comparatively, the Moira change was a much bigger nerf that actually shifted her position in the meta.
But regardless of that, they're both adjustments that change how you should play the hero. When you consider all of the little details that matter in this highly competitive, fast-paced shooter, and the severe lack of ways the game teaches you those things, adjustments and corrections like these should be highlighted better than a sentence under the bug fix section. When they carry that kind of an impact to gameplay, they deserve a more thorough highlight.
Blizzard has said in the past that they plan to be better at listing out the changes that happen in patches, but they've clearly got a long way to go. There's still cases where changes aren't even in the notes at all. Other competitive games even put patch notes and changes in the game's launcher or the game itself. Overwatch has so much going on that it would be nice to know the exact changes from patch to patch. Hopefully we'll see improvement on this in the future, but for now, we'll just have to keep digging.