WoW
Aug 30, 2018 10:00 am CT
Transmog gear from LFR Dragon Soul is much easier to farm thanks to BFA's Legacy Loot changes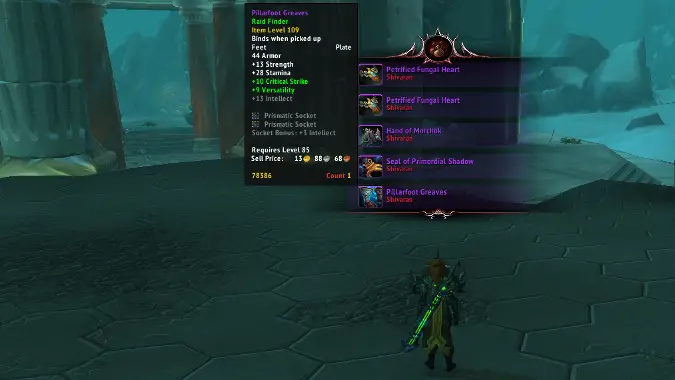 If you've been farming old transmog, like many of us do, but were frustrated by Dragon Soul still being on the original LFR loot system, then worry no more. The loot system changes may not have caught up to Legion content –I'm looking at you, Cathedral of Eternal Night — but they have at last caught up to the first raid to use the LFR system in World of Warcraft, Dragon Soul. As you can see from the screenshot, Morchok in the LFR difficulty now drops a selection of items from his complete loot table instead of dropping, well, nothing, as he was wont to do before. In this case, he dropped a full five items for me.
To make sure this is also the case across other LFR difficulties, I went and ran Throne of Thunder, Siege of Orgrimmar, and Blackrock Foundry. In each case, loot dropped as per the Legacy Loot mode, which isn't surprising as it was the case before. But it's good to make sure that the change making Dragon Soul LFR go along with this system didn't have any accidental consequences. Dragon Soul LFR has some unique weapon color variants, such as the Blue Gurthalak and varying tier colors for every class that existed at the time, making it easier for folks to get a wide variety of drops. And to me, that seems like a winning decision in every regard.
All we need now is for Blizzard to let Legion instances be on the Legacy system. Making us wait until level 121 to get the benefit of the loot table from Legacy when we're already capable of farming these dungeons and raids now seems like a bad call. This isn't current content, it's ten levels ago — especially as the expansion progresses, people are going to be farming Legion instances pretty regularly. Why make us wait years to get Legacy loot in that content?
Here's hoping that changes. In the meantime, if you want a blue two-handed sword off of Deathwing? LFR Dragon Soul is now much more likely to drop one for you.