WoW
Sep 19, 2018 3:00 pm CT
Island Expeditions, class changes, pet battles, and other things you may have missed in the patch 8.1 announcement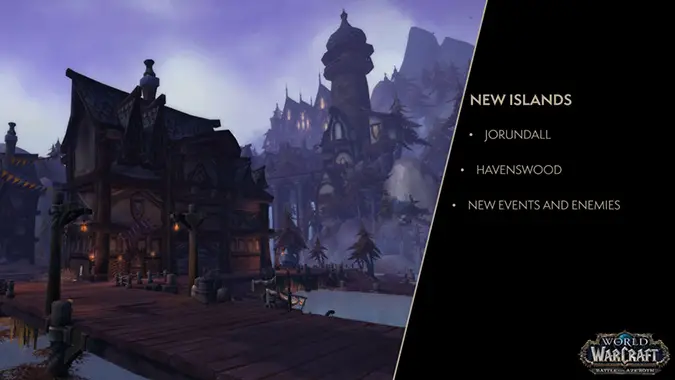 There was a lot of information contained in yesterday's 20-minute patch 8.1 newsdump, and I'm still catching my breath. But in the midst of all the excitement there are a few things you may have missed while you were, like me, planning to spend a lot of time drinking in Ironforge with Bruuk Barleybrew and celebrating my Dwarven heritage.
Here are a few small things that may have slipped your notice.
Two new Island Expeditions
There will be an expansion of the Islands Expeditions with the addition of two new islands: Jorundall, a Vyr'kul-themed island that Ion called "spooky," and Havenwood, a Gilnean-themed island. Each will have new enemies.
It sounded like the whole Island Expedition idea is getting a retooling. While Blizzard likes how it's played out, they want to give the islands significantly more variety so the experience isn't the same every time you go to an island. Bosses will not have a predictable spawn time and hubs, where rares and updated treasure are to be found, will form. Players will have an easier time navigating between these spawn points and will have to defend Azerite nodes instead of clearing an area and moving on. Will this make the adventures more exciting? That remains to be seen, but it feels as if the concerns of the community have been noted.
Class and Azerite trait tuning, tuning, and tuning
As we've seen in hotfixes, class tuning is an ongoing thing, and while we've seen some, more is planned. While Ion didn't specify Shaman, you have to believe that class was what he was referring to — and the class has quite a bit of tuning still ahead of them. This is great news.
Ion mentioned an expansion of Azerite traits, which Blizzard is planning to add to and expand. I am a bit befuddled, however, since he said they didn't want to add "too many levels of complexity" all at once. As our Matt Rossi pointed out, this is an overly complex system as it stands. Adding more levels, more talents, and more options to a currently confusing system isn't a good thing. I've scrapped several pieces which were an ilevel upgrade, but there was no way to make them at all useful to me. Bruuk, another beer while I contemplate this.
And a bit of miscellany…
New profession recipes are coming. Map improvements are coming. No examples of either were given.
And lastly, for you pet battlers, Gnomeregan is the new pet battle dungeon.
Whew. If you've read through our coverage, this is a lot to see and test out. We expect an official announcement that patch 8.1 is up on the PTR soon so we'll be able to check out all of these changes for ourselves.