Blizzard wants you to put an eye out with their new Genji sword collectible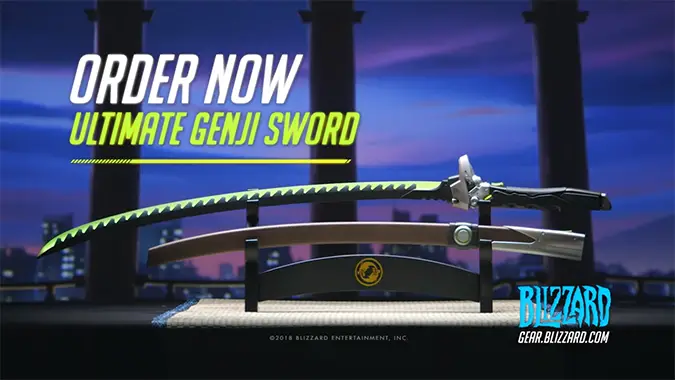 There's only one issue with the new Overwatch Ultimate Genji Sword collectible: You can't have more than 10 of them.
It feels like every true Genji player has a bundle of swords when they're on the enemy team, with which they completely destroy you. But at least this one won't drop your SR. The 46-inch blade comes with a sheathe, a stand, green LEDs, and Genji's in-game "Ryūjin no ken o kurae" voice line he yells when using his ultimate. It'll cost you $200 to pre-order, and if you do it before December 15, you'll have it delivered in time for the holidays. Oh, and make sure to have some AA batteries on hand if you order it.
They couldn't make a Nerf version of Genji's shuriken or sword, so this will suffice — but you'll have to work out some solutions to get a giant green dragon and glowing green eyes for when you want to pull off an authentic Dragonblade. The Swift Strike and wall-climbing ability will take some practice too — maybe just stick with admiring the sword for now.
On the fence about buying this? Maybe the video will convince you:
The Genji sword marks the first official weapon replica from the game. Personally, I don't think we should stop there. Every hero has their signature abilities, and they usually come from unique objects that players would love to have. I'm sure someone would want to wear Genji's helmet or Moira's wrist dispenser things (Editor's note: That's their official name). I'd like to see Mercy's Caduceus Staff or something like Widowmaker's Widow's Kiss rifle come out. Even a replica of something simple like Tracer's Pulse Bomb or Ana's Biotic Grenade would be rad. Please make more replicas in general, Blizzard. Overwatch has a ton of cool gadgets and weapons that I want.
What non-weapon item would you like to own from Overwatch?