WoW
Sep 21, 2018 7:34 pm CT
Tyrande gets a new model, but we're more interested in what the heck Night Elves' new Night Warrior cosmetic option looks like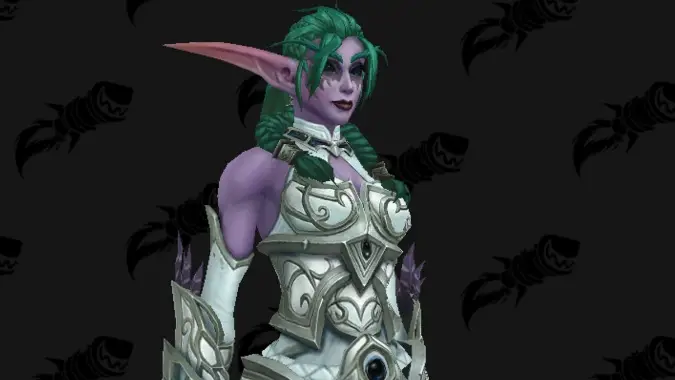 A build for the patch 8.1 has been rolling out on the World of Warcraft PTR, and early datamining has unveiled upcoming content for Night Elves. First, Tyrande Whisperwind will be receiving a new character model; it appears she's been taking some fashion tips from the newest members of the Alliance, the Void Elves. Her facial markings are darker and her eyes have become pitch black, though their utter blackness might be the result of an unfinished particle effect. Tyrande has also received a new set of armor, ditching her overly-elaborate set for something that seems more practical for battle — or as practical as armor in Warcraft can be.
Spoilers ahead!
Her pitch black eyes caused some initial fear for the character considering the Old God influence in this expansion, but her new look appears to be part of the next stage in the Teldrassil storyline. In patch 8.1, Tyrande will return to Auberdine in the wake of the burning of Teldrassil, searching for survivors and trying to rescue Elven prisoners of the Horde. Datamined quest information indicates Tyrande will undergo the Ritual of the Night Warrior during these events — and while we've never heard of such a ritual before, we do know who the Night Warrior is.
The description of an Archaeology item, Necklace with Elune Pendant, states the following:
Elune is the primary goddess of the night elves. She is associated with the larger of the two moons, the White Lady. While she is a goddess of peace, she is not a pacifist. One of her aspects is the Night Warrior, who takes the valiant among the dead and sets them riding across the sky as stars.
Interestingly enough, we've actually witnessed Elune do exactly this in Legion, when Elune raised Ysera among the stars.
Tyrande's new look seems less likely associated with the Old Gods, and more likely to be an even greater bond with Elune. The achievement calls this storyline "Tyrande's Ascension" and one quest in particular specifically states the ritual will help Tyrande become the Night Warrior.
Maybe the Horde pushed her a little too far this time and Sylvanas will need to go toe-to-toe with Night Warrior Tyrande over the souls of the fallen. Falls right in line with Night Elves vs. Forsaken in Darkshore being the next Warfront, no?
Completion of Tyrande's Ascension appears to reward new Night Warrior customization options for Night Elves, but so far, we don't know exactly what those customizations are. We can make a good guess, though. Blood Elves received the ability to have golden eyes as of Battle for Azeroth, and considering Tyrande's eyes are the most noteworthy change on her new character model, Night Elves will likely be able to choose black eyes. Maybe they'll even get a rad, starry particle effect.
I just have one question, though: Tyrande has pigtails now? … Seriously?