WoW
Sep 24, 2018 1:30 pm CT
The WoW Diary offers a captivating look at the development of classic WoW, and this is the last day to order it on Kickstarter
Updated
Click here for more photos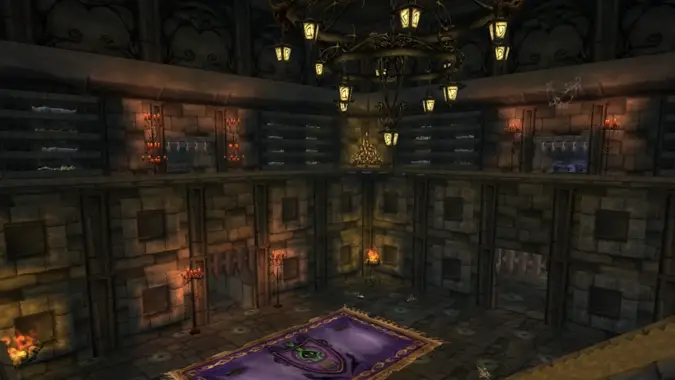 Update: This is your last day to pledge on Kickstarter if you want to snag a first-edition copy of the WoW Diary for yourself.
Man, I remember the first time I ran Scholomance. It was a confusing maze of little rooms and hallways that took forever to clear, largely because we wiped several times over on our way to Rattlegore. Whoops. What I didn't know then — and still didn't know until today, actually — was just how Scholomance came to be, and the issues that popped up with it.
You might not be familiar with the name John Staats, but you're more than likely familiar with his work. As a highlight reel, Staats designed and built Ahn'Qiraj Temple, Blackfathom Deeps, Blackwing Lair, Booty Bay, Karazhan (w/Aaron Keller), Molten Core, Upper and Lower Blackrock Spire, Warsong Gulch, and of course, Scholomance — and that's not the full list. If you ever ran a dungeon or raid in classic, Staats likely had a hand in it.
Working at Blizzard in those early days was an experience we as players rarely get a look at. But Staats is working on pulling back the curtain to some extent by writing a book, The WoW Diary. The book is set to include essays on his experience designing WoW, as well as anecdotes about his fellow teammates and a pile of annotated images as well. However, the book needs some help coming to fruition, which is why it's gone to Kickstarter for funding. The campaign is already fully funded and digital copies will go out this October. A digital copy will cost $30 and physical copies start at $40 and get more expensive depending on how fancy of a coffee table book you want.
If you want a peek of what's inside, Wowhead has a sample chapter of the book available for reading that goes over Scholomance and how it came to be. There are a couple of more short excerpts on the book's website and Staats did a Q&A on Reddit that's that full of interesting tidbits. Honestly, if this is what the entire book is going to be like, I'm in. Staats doesn't just focus on the nuts and bolts of the process, he also talks about working with different departments and developers as well. I didn't realize Scholomance had a huge issue with massive spawns initially — mind you, it took me a while to hit level 60. For the designers working on WoW at the time, it likely took far longer, simply due to the fact they were too busy making the game to play it.
This resulted in some pretty funny back and forth and eventual realizations about those crazy spawn rates — not just in Scholomance, but everywhere. As a player, I had no idea any of this was going on…but hey, years later, I certainly appreciate reading about it. I also appreciate the glimpse of Jeff Kaplan in his early days on WoW, long before Overwatch was a twinkle in anyone's eye.
And the other, less tangible thing I appreciate is just how many memories of that dungeon came bubbling to the surface. It's been years since I've stepped in Scholomance. It's been far longer since those last frantic few hours I spent farming its original bosses for gear that was going to disappear come Cataclysm. I always loved the tale of Caer Darrow — it was part of the creep factor that permeated the Plaguelands and made it such a joy to play.
If you're at all interested in game development, or if you're just wondering how the behemoth that is WoW came to be, The WoW Diary should be right up your alley. Hit up the sample chapter on Wowhead for an idea of what the final project will look like and check out the Kickstarter campaign to order a copy. This is the last day to back the project on Kickstarter, so get your pledge in now if you want to snag the first edition of the book, which comes with some subtle printing extras that won't be in later editions.