Ion Hazzikostas on the Battle for Dazar'alor and more coming WoW content
Click here for more photos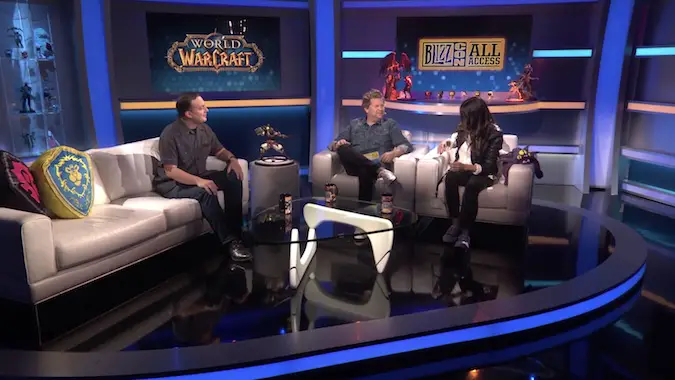 After the World of Warcraft What's Next panel, Game Director Ion Hazzikostas took 10 minutes out of his busy schedule to talk (briefly) with BlizzCon hosts Michelle Morrow and Alex Albrecht about the upcoming patch, Tides of Vengeance. They discussed more details about the Battle for Dazar'alor raid, as well as talking a bit about about profession changes and even sneaking in a few words on Whomper, the new charity battle pet and plushie now available in the Blizzard store.
Here's the interview in full
MM:  What are some of the main features about Tides?
IH:  Obviously, it's the next chapter of the story. Up to this time, you've been laying the groundwork for what is coming in the Patch. The Alliance strikes back, after suffering devastating losses in Darkshore. Yes, I know that's a Star Wars reference.
MM:  You know Sylvanas is my love.
IH:  Yes. Sylvanas has been a forceful character since the day we met her. That forcefulness and determination continues.
AA:  Wasn't this raid called Siege of Dazar'alor?
IH:  It was early, but we've settled on Battle for Dazar'alor. All-out war erupts with Alliance going inside the city.
MM:  How does this change the landscape of the city itself? We're going to be inside and going after the king. 
IH:  There might be a few changes to the city, but the big change will be in leadership. The Alliance — with their leaders — pulls up with their fleet and attacks the city. The whole point of the siege is to defeat King Rastakhan.
On the Horde side, you'll head to the docks to defend, but quickly regroup to defeat the bosses inside the pyramid. When those are downed, you'll head to the Alliance fleet, board their boats, and meet Jaina.
MM:  It feels almost like a PVP raid where one faction takes a node and the other faction attacks. Then you have to defend what you've seized.
IH:  It is faction conflict and, let's be real. How could the boss the Horde face not be Jaina?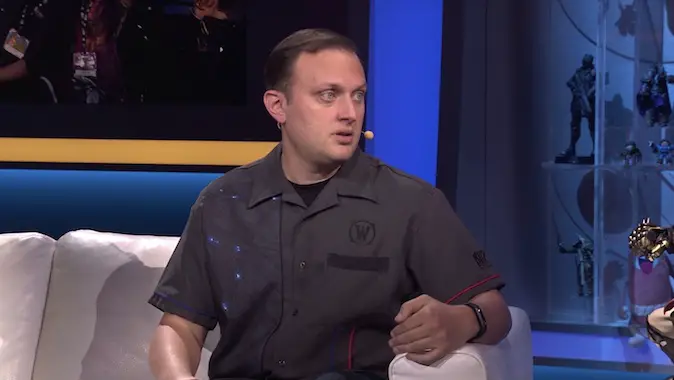 IH:  Warfronts are a territorial struggle. What we're going to see in Tides is this struggle come to the shores of Zandalar and Kul Tiras. There will be World Quests which supersede whatever is going on in that zone. These quests will culminate in an overall quest/event where — for instance — Horde will breach the walls of Boralus and you'll have to defeat them and repair the wall.
MM:  I'm so excited about "Tools of the Trade." What was the thinking behind expanding the professions?
IH:  We wanted to give professions an identity. We expanded upon what we devised in Legion and gave each profession something which cements what they are able to do.
MM:  Can you talk about Whomper?
IH:  Absolutely. We decided to partner with Code.org to help address the need for people who code, particularly women. If you look around, coding has pushed technology and society forward.
AA:  We wouldn't be sitting here discussing this game if it wasn't for coders. 
IH:  Absolutely. If you want to know more about how WoW benefits from coders, watch the Classic WOW panel tomorrow. They will talk about what it took to bring that expansion up to playable standards today.
That's all from this short interview, but we may hear more from Ion — and the rest of the WoW dev team — tomorrow at the WoW Q&A panel.