WoW
Nov 2, 2018 6:35 pm CT
Terror of Darkshore cinematic showcases the Night Elves' vengeance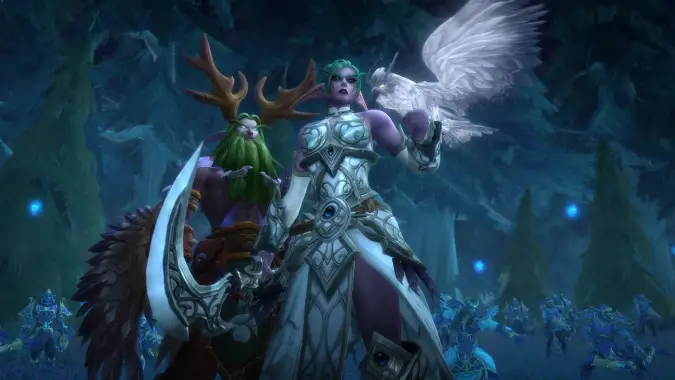 We know that Patch 8.1 is coming out on December 11th, just four days after my birthday. And in order to introduce the Battle for Darkshore Warfront, we've gotten a chance to look at a new cinematic which helps set up the whole Warfront. And it focuses on the furious anger of the Night Elves and their desire to take back their lost homeland.
After the Horde burned Teldrassil and pushed the Night Elves out of Ashenvale, they may have thought they would have no problem holding on to their new territory. But the Night Elves, led by Malfurion Stormrage and Tyrande Whisperwind, are back to take the fight to the Horde.
The video has a horror movie vibe which I find kind of interesting — I'm sure a lot of players won't buy Malfurion as a monster in the darkness eating Horde the way we see him in this video, but I really like it. We know that this Warfront is running concurrent with a series of story quests that introduce Tyrande's change to the Night Warrior, and it's nice to get to see what's happening in this cinematic, with that awesome establishing shot of Tyrande waiting to unleash her new power on the Horde.
We've got a month or so until we get to see Patch 8.1 for ourselves, but I'm very excited to see how it's all going to shake out.