The Dwarven Heritage Armor makes me wonder… does this helm come with marshmallows?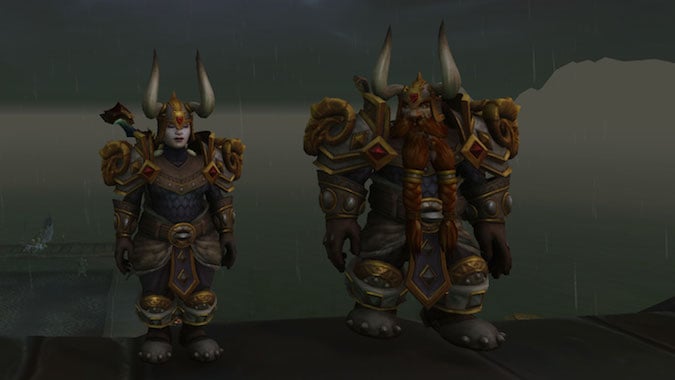 This past week, I did the quest to get my Dwarven Heritage Armor. That's me on the left with a guildmate on the right. I've seen a few Dwarves with it, but not as many as I expected. I don't have a Blood Elf so I can't speak to the elegance or inelegance of their armor — I can only speak to my perceptions of what Dwarves wear.
I hate this helm, and I'm not so sure about the quest chain, either.
First of all, in order to even get the quest which leads to the armor set, you need to be exalted with Ironforge and level 120. Oh laddies and lassies. Back when I was a wee Dwarf, we had to turn in cloth to get exalted. I spent many a dark and stormy night farming and farming and farming still. As the years have passed, getting exalted with the faction of your race has become ridiculously easy. Buy the Ironforge tabard and go to Outland — Netherstorm and Cosmowrench in particular. Run the Mechanar dungeon over and over and over. You'll be exalted — some say — within 30 minutes.
But back to the Heritage Armor. Diggar Golad outside the embassy in Stormwind has the quest to collect our armor. Without giving things away for those of you who haven't done it but would like to, you'll be picking up wayward pieces of the armor that has been broken. It will be up to you to go to a variety of locations to find — and convince — people to help you reforge the armor. The quest chain takes you all over Dwarven lands from the depths of Ironforge to Ulduar to Loch Modan.
It's interesting, but I'm confused, because I thought Dwarves were created by the Titans. The armor is not forged by the Titans and that part of our lore doesn't factor into any of the recreation of the set. I read every quest text and was kind of surprised there was nothing about this aspect of the Dwarves. If we are to know about our history, wouldn't that be a big part of it? I'm pleased the set is named after the Bronzebeards, but I would have liked more information on where we come from.
And can we talk about this helm? I feel like I'm wearing a skull from a heilan coo — Highland cattle. I suppose — as the Dwarven accent is Scottish — this sort of makes sense, but I feel like I should put marshmallows on the pointy ends or get myself some pool cue chalk, bend over, and charge at any boss in my way. The rest of the set is going to come in handy in transmog, but I'm clearly not feeling the love for this helm.
As more races get Heritage Armor I'll be interested to see how their stories are told and how their armor integrates with their lore. But what do you think about your Heritage Armor? Did you feel the lore revealed in the quests matched up with what you know of your race? Do you like the armor — and are you looking forward to the next race armor sets? Depending upon how it looks, I might actually level my Tauren.