WoW
Dec 24, 2018 2:00 pm CT
Hunters, you can now tame your own adorable Crawgs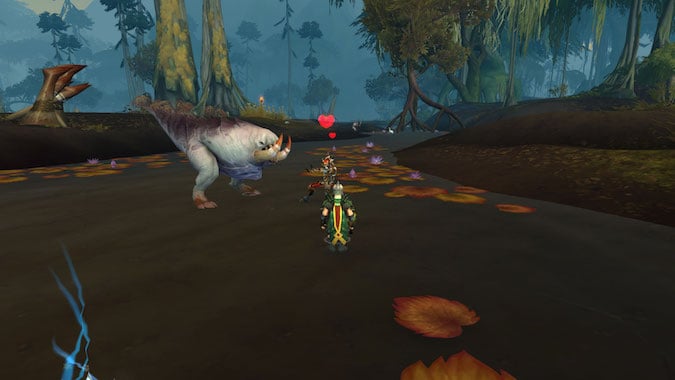 Hunters rejoice! The Blood-Soaked Tome of Dark Whispers has been discovered. This forbidden tome, was added in patch 8.1 and has remained hidden up till now, allows you to tame Blood Beasts and Crawgs as pets to use in battle. Any Hunter who  kills Zul, Reborn in Uldir on Normal difficulty or higher will be able to start taming Blood Beasts of their very own!
The tome was intended to be more of a challenge to acquire, but there was a small bug that was causing it to be awarded in an unintended fashion, so Blizzard nixed the challenge and now simply requires a Zul kill. I'm glad that Blizzard stepped in as quickly as they did to hotfix the tome. The bug had the potential to really mess with peoples groups, and was definitely something that would make it harder for any Hunter to have gotten to raid Uldir using the group finder.
Originally to get it you were supposed to take a raid of only Hunters to kill Heroic Zul — which sounds amazing! The coordination and effort that would've gone into that sounds like it could've been super fun. You would need some Beast Mastery Hunters to bring their Spirit Beasts for heals, and keeping your fingers on the Exhilaration button would be a good idea. Things would get dicier in the second phase when Zul needs to be tanked. Not having anyone who can do a dispel would mean that you're in even more of a race against time — everyone who got targeted with Deathwish would gamely walk off the ledge.
It's a little sad that the all-Hunter raid wasn't added, but I'm glad that so many people are going to be able to get to tame some Crawgs! If you're someone who does any Battlegrounds, their new ability Blood Bolt can really help to catch those annoying Druids who just run away all the time. Plus, they're so cute! They have those big happy smiles, and waggly butts — definitely my favorite new monster added in Battle for Azeroth.
Good luck and happy taming!