What is it you just can't do?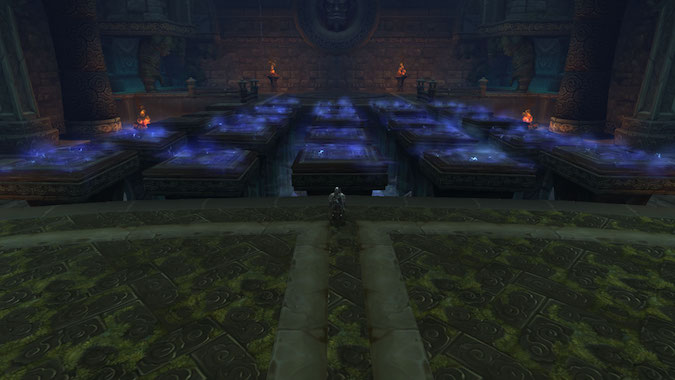 One of the subtle, unannounced changes in Patch 8.1 was a quality-of-life improvement for the Alliance in Boralus. Near the 7th Legion quartermaster, part of a railing was removed to make access to the quartermaster's platform — and by extension, the ship to get us to Zandalar — easier. Most people I know jumped over the railing to dash up the steps into the trade district. Removing this railing makes things more fluid and quicker to go from ship to trades. Going to the district is just a quick jump off the end of two boards. A lot of people can go the other way and jump from the steps onto the platform. "A lot" does not include me.
I cannot jump. I have no idea why that is. It's a running joke within my guild that fights involving jumping are going to cause me a great deal of difficulty. See the header photo? That's the Swollen Vault on the Isle of Thunder. There is an achievement called "Platform Hero," which calls for you to last 90 seconds while avoiding the lightning on those platforms. At my level, the lightning isn't an instant death as it was during Mists of Pandaria. However, it knocks you off the platforms when it touches you, and you have to start all over again. It's quite "simple" to get the achievement. Just jump from empty platform to empty platform avoiding the moving lightning. Simple. Yeah, right.
There's another jumping achievement — this time from Warlords of Draenor. The achievement is They Burn, Burn, Burn and is found in the Archmage Sol encounter in The Everbloom dungeon. You have to jump over five rings of fire in five seconds. It was originally part of the meta, Glory of the Draenor Hero, but was removed from that achievement. I don't have it and I've given up on getting it. See above. I can't jump.
I thought things would be better when I got a new computer for Battle for Azeroth. Nope. I still can't jump. I just do not know what it is. I'm chalking it up to slow reflexes and an aspect of the game which befuddles me. As I fell between the side of the 7th Legion platform and the stairs — yet again — I wondered if I'm the only player in the whole of World of Warcraft who cannot jump. Maybe you can jump, but perhaps there's another aspect of the game which everyone else can do that you can't.
So, confession time. What is the one thing "everyone" else can do that you can't? What achievement can't you get because it involves some aspect of the game you just can't master no matter how hard you try? I won't judge. See above. I can't jump.