This Overwatch hero portrait glitch should actually be a feature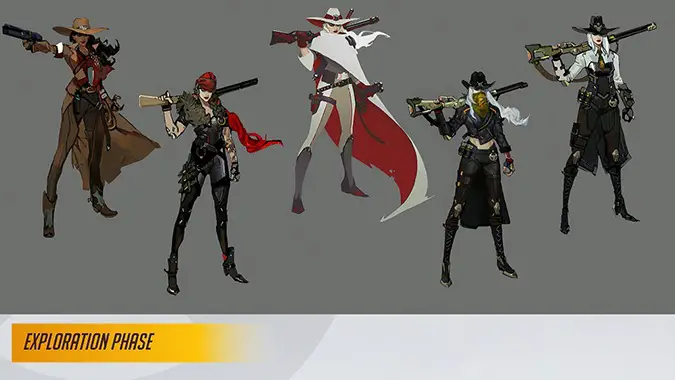 This week, all of the Overwatch League expansion team skins were made available. Apparently, if you buy one for new hero Ashe, her hero portrait changes from the usual shot of her in-game face to a piece of Blizzard's concept art.
Reddit user FreedomWilly noticed this and wondered if this will be a potential feature in the future. The art is specifically taken from one of the early concept art renditions of Ashe. It would be fun to able to choose from concept art and other portraits, like the ones tied to each skin.
It wouldn't affect other players, because hero portraits only change on your own screen. It would also add another way to customize how you see the game, like the way people use the color blind options to change the colors for allies and the enemy team. And I'm sure Blizzard would love to have another way for people to spend credits and buy loot boxes.
Right now, besides the skin you select the only thing that changes are your portrait colors. At increments of 601 levels earned, your portrait changes from bronze-colored, to silver-colored, and so on, just like the Competitive Mode skill ratings. I'd like to see Blizzard go further to allow for customization of portraits, especially since having a high-level portrait often prompts harassment in chat. Simply changing what your hero looks like would be a step toward that. And hey, it's already possible to change your portrait in Diablo 3!
Concept art is largely unused in games anyway, so implementing this would highlight some of that work that went into the game. It may even allow you to have a version of the character that didn't make the cut. A lot of Overwatch players have a lot of their favorite skins and other cosmetics, so something else to look forward to would probably keep people playing.