What content do you do on your various characters, and how do you choose who does what?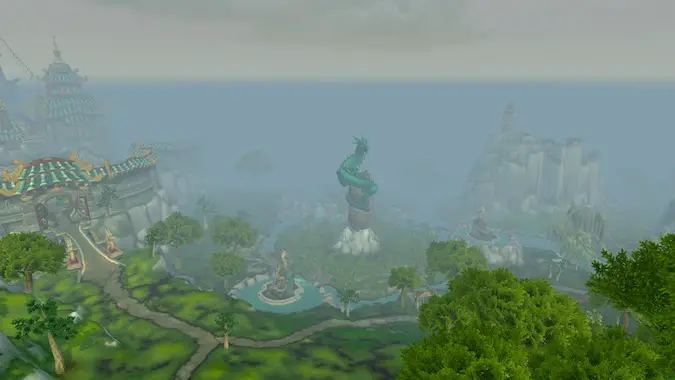 I was looking through my vast collection of screenshots and ran across the above one. With the anniversary of Burning Crusade, I've been in a bit of a nostalgic mode — remembering all the places I've been and what I've seen and experienced. Here come more quests and more things to do and more problems to solve.
I did the entire Jade Serpent quest line on my main. Not a lot affects me in this game — I can be kind of jaded after all the expansions I've experienced. I remember feeling terrible when the statue shattered and Taran Zhu yelled at me for releasing this anger into Pandaria. What had I done? I know it's strictly for story purposes but man. Something bad had just happened and it was a direct result of my actions.
So, I leveled my main and experienced what these Sha creatures could do. My main was fully into Mogu'shan Vaults before I leveled another character high enough to get to Pandaria and then, the Jade Serpent quest line. I remember getting it about half done and thinking, "I know what happens here." Every time my main would fly to Dawn's Blossom and pass by this statue, there were only the shattered remains and a black, ugly, scar on the ground. I liked this statue. It was a beacon of hope. I couldn't go any further. On subsequent characters, I've avoided finishing the quest line in the Jade Forest just so the statue stays intact.
This got me thinking. As far back as Classic, we've participated in quest lines which alter the landscape and the game. It's probably not the earliest one, but I'm remembering doing the original Pamela Redpath quests. Once you summoned Horgus, killed him, and freed Joseph Redpath, any time you went to Darrowshire, the battle was ongoing. You didn't stop the battle so much as help move the tragic story of two people along. (For an excellent summation of the battle, watch "Darrowshire" by Cranius.) I have done this particular quest line on all available characters because the story moved me, but I know people who haven't done it beyond the first time.
So, my questions to you today are: Is there a quest line you did just once and have never done again? If so, why? Was it a case of you just didn't like the quest or are you — as I am with the Jade Serpent — preserving a timeline which you want to remember? As we alter the landscape going forward in Battle for Azeroth, it feels that we'll not be able to skip some of what we're experiencing — Zidormi or no Zidormi.