WoW
Jan 31, 2019 9:00 am CT
Mythic Battle of Dazar'alor World First: How the race looks going into day 2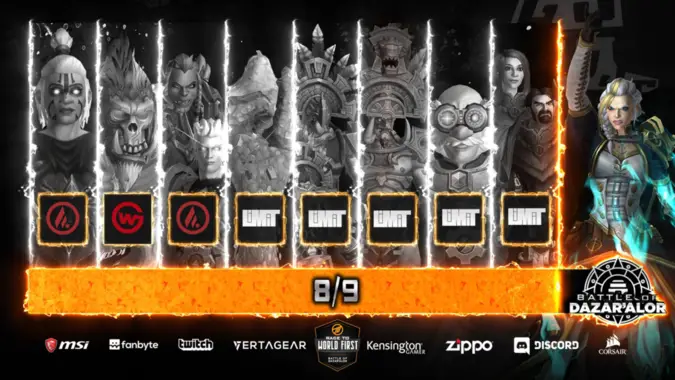 We're getting into the second day of the Mythic World First Race for the Battle of Dazar'alor raid. Currently sitting in first place is Limit, who busted through the Stormwall Blockade after 7 hours of wipes on it. Method joined them early this morning as well with their own Blockade kill. King Rastakhan has been killed 16 times now across the world. Asian servers had their Mythic difficulty unlock and already have four guilds who are working on High Tinker Mekkatorque. You can see where all the guilds working on it currently stack up at Raider.io.
The big upset was watching Method get beaten to the world second kill of High Tinker Mekkatorque by Pieces. They were neck and neck throughout the afternoon, but Pieces snagged the kill just 25 minutes earlier than Method did. Method lost a lot of time on Mekkatorque. They took almost nine hours to defeat him, which is more than double the time it took Limit. Mekkatorque has still only been dismantled by three guilds, all of who prioritized controlling the Spark Bots that are flown in by gyrocopter during the fight. Druids using Mass Entanglement and Death Knights helped to keep them out of the way so the rest of the raid could focus on dodging mechanics — and not trampling on their shrunken comrades.

Running the Blockade
Method and Limit have been prioritizing multi-dot classes to get through the Blockade. At some points in the evening Methods raid has been nearly half made up of Balance Druids and Shadow Priests. The second phase involves dealing with an extra storm elemental while still pumping damage into the main boss Laminaria which these classes excel at. On top of that bringing lots of Priests means that if anyone falls into the water they can be saved with a Leap of Faith.
At the beginning of their attempts Method even attempted to two heal the fight with only a pair of Restoration Shaman. The extra damage would make the fight easier, but it doesn't seem that it was quite possible yet. The damage you take during the first phase of the fight is too high for just a single healer per boat. After about five and a half hours and around 60 attempts, they finally executed the fight well enough to win. The kill ended up being only a second away from wiping the raid — it would be hard to get a tighter margin of victory if you tried.
Back on the North American side of things, Limit has had about 11 hours of work on Mythic Jaina. Method has only just begun, so if there's a secret Mythic-only stage to the fight — like there was on Mythic Garrosh in Siege of Orgrimmar, for instance — it's possible we haven't seen it yet. Keep your eyes on their Twitch channels — we're re-hosting a few to the Blizzard Watch Twitch, but as always with live entertainment it may be NSFW at times. This race isn't over yet.