WoW
Feb 12, 2019 3:00 pm CT
Love is in the Air is live, so you can enjoy not getting a Big Love Rocket for another year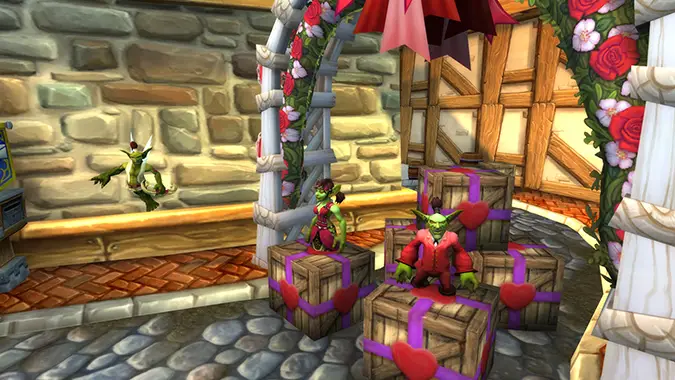 Blizzard is continuing their holiday-themed hearthstone trend with the arrival of Love is in the Air today. Players intent on collecting hearthstone variants will want to take note of Peddlefeet's Lovely Hearthstone, which thankfully isn't a drop. Instead, you can purchase the new toy for 150 Love Tokens, the holiday's currency. Unfortunately, that's the only new addition to the list of items you can obtain during the event — but that's all right, because there's still a ton to get.
If you like pretty clothing for your characters, the Lovely Dresses and Dinner Suits have made their return, as well as the Forever-Lovely Rose and the Vile Fumigator's Mask. Along with the new hearthstone, players can also pick up the Love Boat, Romantic Picnic Basket, and Sturdy Love Fool if they're looking for additional toys to add to their collections. If you haven't picked one up yet, you can also nab a Swift Lovebird Mount — complete with brand-new updated model as of Battle for Azeroth.
Players looking to grind as many Love Tokens as possible will want to note that with the increased level cap, the ideal places to farm Lovely Charms have shifted a little. Areas with mass amounts of trash are top priority — Eye of Azshara on Normal mode has a boatload of trash to sift through, as does the opera house section of Return to Karazhan. Helpful hint — if you're clearing any dungeons on Heroic, avoid killing the bosses, and just farm the trash. You can reset the trash as long as the bosses are still alive, but once they're dead, they'll remain dead until the daily reset.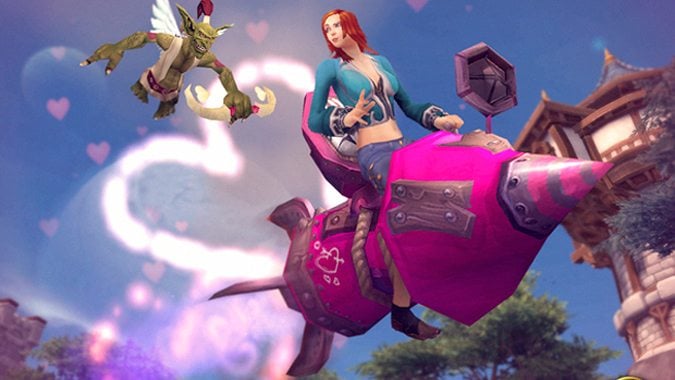 And then we have the Big Love Rocket.
There are low drop mounts, and then there are low drop mounts, and the Rocket falls firmly into the "spotting a unicorn in the wild" category of obscenely rare. It can only be obtained from the Heart-Shaped Box that drops from the Apothecary Hummel encounter, and as of this year, only players level 110 or above will get their hands on the Box. In other words, players under 110 will not get a chance at the mount. This shouldn't really be a shock to players — last year's event saw the level raised to 98. We've had a new expansion come out between now and then, so it's only natural they'd raise that level a little higher.
Regardless, there's very little in the way of changes this year — but that isn't really surprising. Love is in the Air had a substantial revamp back in 2010, and each year has seen a little more added to the list of things to do. Honestly, if there's one thing I find myself wishing, it's that we'd get some additional fashion to add to our collections. We've had the same four colors of outfits since the event originally released them — it'd be nice to at least have some new color variants available. Otherwise, the holiday has a pretty full roster of activities. It doesn't feel like it really needs any more, you know?
If you're leveling alts, consider completing the dailies and other associated quests just for some additional XP. If you've already collected everything the holiday has to offer, you can skip straight to nabbing the new hearthstone if you want it, and ignore everything else. If you're really gung-ho about mount collecting, you've got two weeks to try for that Rocket — but I'd advise against pinning your hopes too highly with that one.
Good luck, and get to farming!