Off Topic: Just try not to read this Cookie Monster AMA in his voice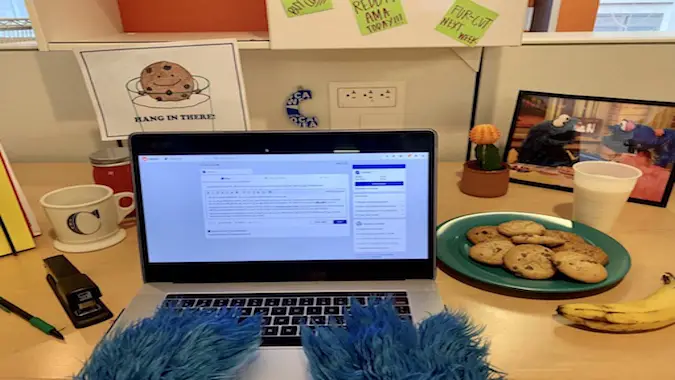 What a wonderful world we live in when a 50-year-old blue monster gets his very first "Ask Me Anything." Sesame Street, which is celebrating its 50th anniversary, suggested Cookie Monster sit at his computer and field questions from his fans. Some of these AMAs seem to get very self-serving and only happen when the person at the computer has something to plug. And while he did raise funds for the Yellow Feather Fund, a charity helping vulnerable children, this was all about cookies — sort of. You can read the whole transcript here, but I allow me to highlight some of my favorites.
Q:  How big is your cookie collection?
A:  Not very big. Me constantly run into problem of eating me collection.
Q:  Do you like your cookies crispy or soft?
A:  Yes.
Q:  What is the optimum number of chocolate chips per cookie?
A:  Me always say the more the merrier. Me think me need at least 3.14 chocolate chippies per nom nom. MMM pi.
Q:  If you could only eat one type of cookie for the rest of your life, what would it be?
A:  Wow! Me didn't realize these question be so hard. If me had to choose just one cookie, me would have to pick me Mommy's classic chocolate chippie!
I think my favorite Cookie Monster moments were when he did Alistair Cookie. Ignoring all the trappings of an office setting, I could see him doing his AMA from the warm, inviting confines of his study — surrounded by books — next to an end table on which sit a plate of cookies and a glass of milk.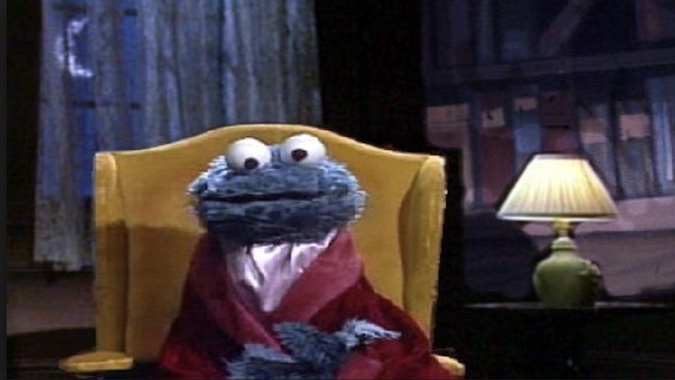 Q:  We know cookies are your favorite food. What is your second favorite food?
A:  Can me say more cookies…?
Q:  Is there anything you won't eat? I mean, I've seen you eat a typewriter before…
A:  Me stay away from anything in Oscar's trashcan. Otherwise me not picky.
Q:  Is there a cookie you will not eat?
A:  Me draw the line at Oscar the Grouch's sardine cookies.
Q:  What type of cookie is the most useful when building a giant pyramid out of only that type of cookie?
A:  Me always like to use gingerbread, they very sturdy cookie!
Q:  What's the most important part of a cookie?
A:  If it chocolate chippie, it the chippies. If it oatmeal raisin, it the raisins. But me always think the most important part of cookie is having enough to share with friends.
Q:  How's the rent on Sesame Street?
A:  Me think you confused…. Rent played on different street, me think Broadway?
Q:  What is the best advice you've ever received?
A:  Sharing and being kind to friends. Even Oscar.
Reading the AMA is such a delight. Whoever got to do this has a wonderful sense of humor and captured the happiness of this character. You'll easily spend an hour just reading the remarks. While you do, enjoy C is for Cookie — and sing along, because you all know the words. You can follow Cookie Monster on Twitter @MeCookieMonster.