Blizzard outsourced Overwatch League jerseys, and they're kind of terrible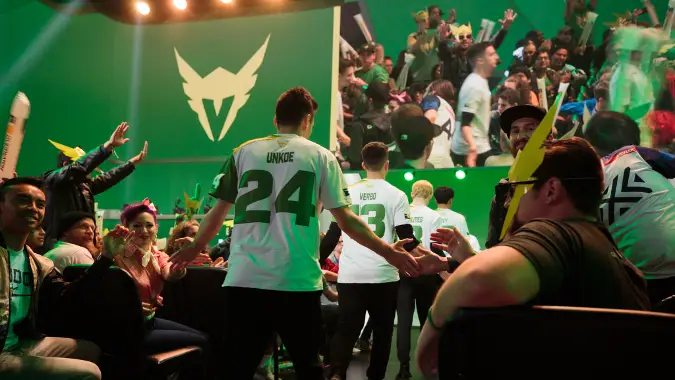 Since one of the departments hit heavily by the Activision-Blizzard layoffs earlier this week was merchandising, you'd think that the third-party vendors Blizzard hired to take care of merchandise immediately following that would be above and beyond the standard we're used to. Well, hold that thought.
Lots of Overwatch League fans have reported that their $90 jerseys ordered from Fanatics are awful — to put it bluntly. The Atlanta Reign's jersey color mismatch in particular is egregious. You can see in an original Reddit post that the black-on-black lettering is dang near illegible, and the two somehow manage to clash nonetheless, with the shirt being a blueish black and the lettering being slightly reddish. Other posters confirmed this with their own photos.
A bigger issue is that lettering appear to be heat transfer decals, rather than printed ink. Though we can't confirm printing method, the end result is the same: The images are peeling, and the lettering has uneven edges. Furthermore, this only seems to be affecting the lettering on player and custom jerseys. The generic "team" jerseys without any lettering are fine — except for the Into The AM tags, which some people apparently found on their new jerseys from Fanatics. This also follows reports that jerseys for  teams who made alterations to their colors or logos since Season One are still using the older assets.
Again, these jerseys are $90. For that price you could buy twenty venti lattes at Starbucks. Or five copies of American Truck Simulator. Or four-and-a-half tickets for general admission to the Blizzard Arena to watch an actual game.
Fanatics took to Reddit to ease concerns, but all they did was raise new ones. They're changing the ink on the Atlanta jerseys to white, instead of just using the same production method as the ones they would presumably already have in place to print the players' actual jerseys, with black lettering on charcoal gray shirts.
We're not saying you shouldn't buy apparel to cheer for your favorite team. We're just saying, maybe wait until they get all these issues ironed out — or maybe just buy a generic team jersey and iron it out yourself.