Off Topic: This Apex Legends player spends $500 on loot boxes just as the FTC updates plans to investigate them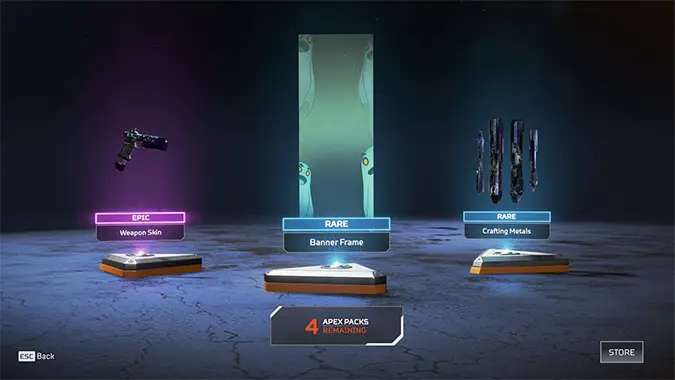 An Apex Legends player spent $500 on the game's loot boxes, and the Federal Trade Commission just announced its plans to further its investigation into the popular monetization model. Clearly, the discussion around the morality of loot boxes is far from over.
In a now-deleted Reddit post, Apex Legends player Cole detailed his pricey journey to obtain an ultra rare cosmetic item for one of the game's characters, Wraith. The item, which has no mechanical effect on the character, is an "heirloom" item that gives her a glowing knife. It has less than a one percent chance of dropping from the game's loot boxes, but you're guaranteed to get it once you've opened 500 Apex Packs.
"I can tell you it wasn't worth it," Cole wrote in the post. "I just hope this story will resonate with some people and maybe help prevent someone from doing the same thing I did."
Speaking to Kotaku, Cole explained his thought process while opening each consecutive Apex Pack. He adds that he doesn't think loot boxes are immoral and might be a good way for developers to make money on free-to-play games like Apex Legends, but also notes that Fortnite cosmetics are popular without any gambling involved.
All of this happened a few days before today, when The FTC, according to The Verge, announced its plans to hold a public workshop with people from the video game industry and consume advocates to discuss loot boxes. It's unclear when the workshop will be held this year, but it should help forward the discussion on loot boxes and whether or not games like Apex Legends should utilize them.
Cole's $500 heirloom and the FTCs continued interest shows how big of an effect loot boxes have had in the video games industry. Even I have spent likely too much money on Overwatch loot boxes for some new piece of loot. It's easy to forget that an alternative that would completely remove the current random nature of them would be to just sell the skins outright for real money. If anything, it's important to keep talking about it and be critical when people are clearly being exploited.